Seasonic SS-400ET 400W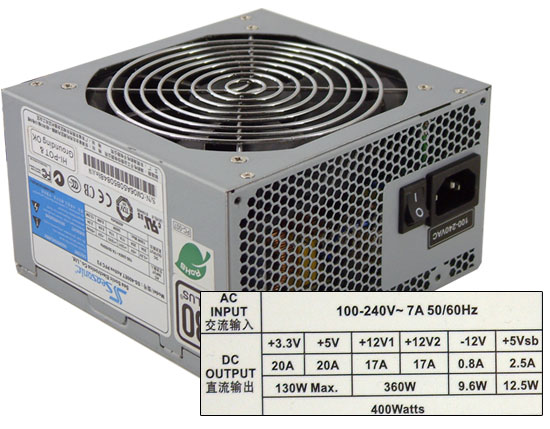 We also brought in an OEM version of Seasonic's line up. It comes with the same housing as the S12II but in normal grey. In fact, this unit is almost the same as Seasonic's retail versions, just without a fancy package, painting, cable sleeving, and shorter cables. Unfortunately, these units are not much cheaper which means you can save a few bucks but you won't get the nicer appearance or warranties.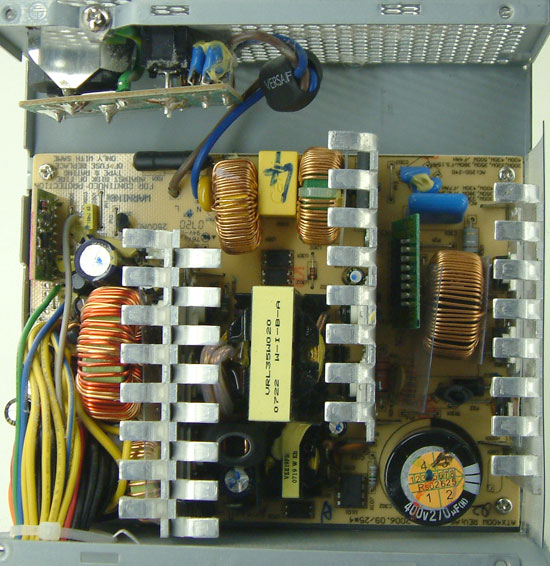 We apologize for the vast amounts of dust you can see on the pictures but this power supply ran quite some time in the office PC of our lab before we decided to include it in this roundup. We see again the same design as the Seasonic S12II, PC Power & Cooling Silencer, and Silverpower units. Surprisingly we found a Chemi-Con capacitor in the primary and Ostor caps in the secondary. The fan is again made by Adda.
The OEM Seasonic 400W is surprisingly well equipped with a 4-pin and 8-pin connector and a 6-pin PEG connector at decent lengths. However, all of the peripheral connectors are short, which means you had better have a chassis where the PSU is mounted in the top and not the bottom. It will be easier (possible) to reach the components this way.