Enermax Pro82+ 385W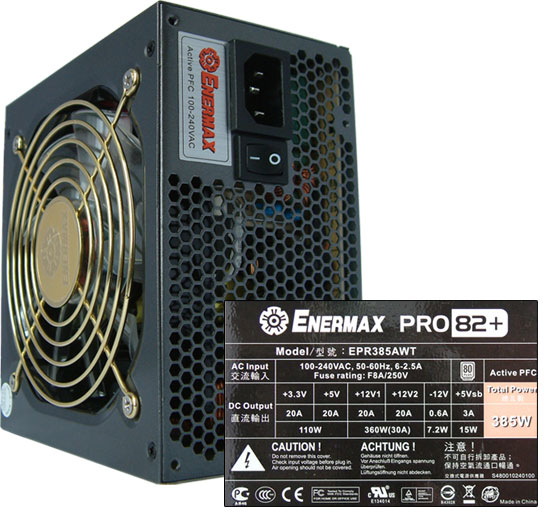 When we tested the Modu82+ and Pro82+ in the middle of this year, we were very satisfied with the performance both series delivered and awarded both our Gold Editors' Choice Award. We included the Pro82+ 385W version in this roundup to see how it matches up to other models in this category. The power supply comes in a gunmetal finish with a golden fan grille as expected.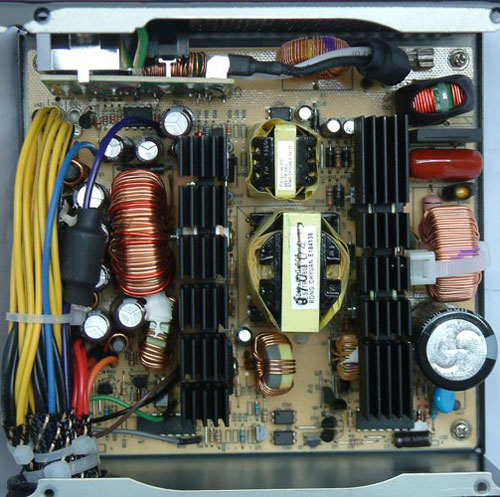 The inside is similar to the Liberty series. It also comes with similar components, which might have been the reason why Enermax upgraded the Liberty in the first place, putting the new good ideas from the Pro82+ series into the old Liberty line. Another difference are the Chemi-Con capacitors in the secondary part, which the Liberty Eco doesn't have.
The Pro82+ comes with only one 6-pin PEG connector, since Enermax didn't see the need for more in a 385W power supply even though the 400W Liberty comes with two. We have again three cable harnesses but this time strictly separated into Molex or SATA like the competition. There are four SATA connectors on one cable harness and two cable harnesses with three Molex connectors each.