Enermax Liberty Eco 400W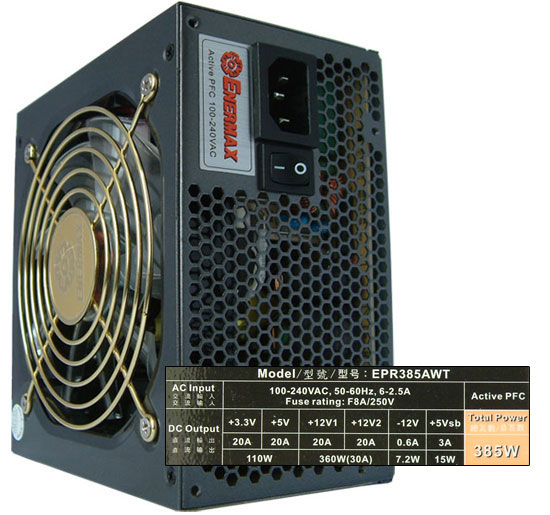 Enermax has refurbished its older but very successful Liberty series and is now calling it the Liberty Eco. There has also been a bit of cost cutting on the components, but according to Enermax the performance is still the same. We had the Liberty in our labs already a little while back and it performed well. The appearance is still the same as Enermax tries to keep the gunmetal finish (the Liberty Eco is rather black) together with the golden fan grille as their corporate identity. The power supply comes with cable management, though note that the pictures are taken from the 500W version.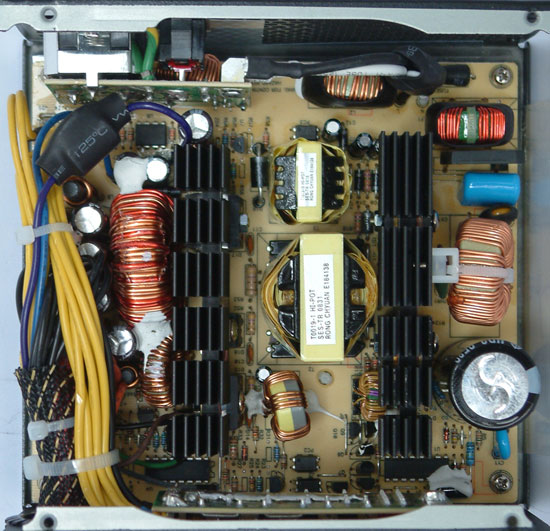 The inside doesn't really show anything new since it's a typical Enermax layout. The input filtering stage is as in most cases on a small sister PCB located at the AC jack. The primary side carries a Hitachi cap with 330µF and 400V. The heatsinks are rather small but still big enough to handle the heat for such a lower wattage unit.
Enermax brings the only power supply in this roundup with two 6/8-pin PEG connectors, which is great news for low and medium SLI/CrossFire setups. There are five SATA and five Molex connectors on three cable harnesses. Enermax likes to mix the connectors on each harness so that some people need only one harness to power up hard drives and optical drives. The 12V connector comes with 8-pins but splits in half if you only need four of them.