Intel has been shipping its Atom processor for months now, although it has been talking about the CPU for much longer. Earlier this year I went through the architecture and unique design approach behind Intel's first foray into a new approach to chip design since the original Centrino.
While Atom isn't setting any performance records, it is amazingly powerful for its size and power consumption. In making Atom, Intel made sure to give it an equally impressive chipset: Poulsbo. The combination of Atom and Poulsbo unfortunately uses too much power and is too big to be used in the most attractive of devices: smart phones, relegating them to MIDs (Mobile Internet Devices). MIDs aren't terribly successful, mostly because they are bulky, plagued by terrible UIs and too expensive for what they are. In a couple of years Atom will surely find its way into smart phones thanks to Intel's push for integration, but thanks to the Netbook segment Atom hasn't gone unappreciated.
Largely pioneered by the efforts of ASUS and obsession with the letter E, the Netbook market is almost entirely dominated by Intel's Atom CPU. In order to keep costs down, Netbook manufacturers have paired Atom with a desktop chipset instead of Poulsbo: the Intel 945G. Since Atom's FSB can work in GTL+ mode, it is compatible with Pentium 4/Core 2 chipsets.
Atom is honestly fast enough for many tasks, delivering the performance of a mainstream notebook from 4 years ago. The problem is that there are some applications that are commonplace today that can't run on Atom. HD video playback isn't possible on Atom + 945G platforms because the CPU isn't fast enough to decode high bitrate video (much less H.264) and the chipset doesn't support HD video decode acceleration. 
NVIDIA saw an opportunity with Atom. Intel had a very popular CPU, that could be used in many more environments if it could only be paired with a more powerful chipset. Enter the GeForce 9400M.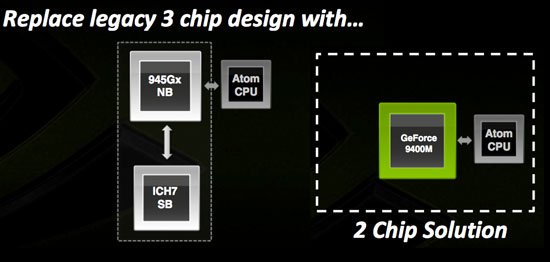 This is the same GeForce 9400M that's used in desktops and notebooks, the very same GeForce 9400M that's in the new MacBook, MacBook Pro and MacBook Air...and NVIDIA is pairing it up with Intel's Atom processor.