2GB DDR2-800 Budget Kits
For those on a really tight budget, not wanting to go through the rebate process on the inexpensive 4GB kits, and/or running Windows XP or Linux, 2GB can suffice with most applications around today. For these users, we recommend the following kits (but we still prefer 4GB).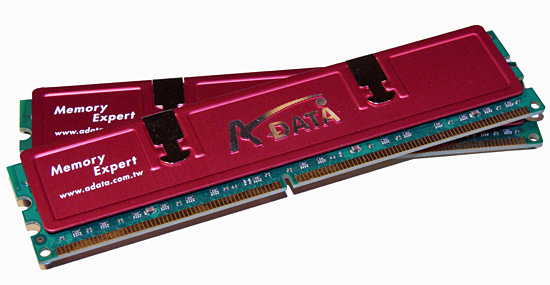 A-DATA Vitesta 2GB DDR2-800 Kit - We have never had a compatibility problem with this kit in a variety of budget motherboards and that is impressive to us. It features 5-5-5-18 timings at a JEDEC approved 1.8V, a nifty heatspreader, and a limited lifetime warranty for a price of around $27. It does not overclock well though, with our retail samples topping out around DDR2-900 at 2.0V with 5-5-5-18 timings. In this price range and target market that really does not matter that much to us.
Mushkin 2GB DDR2-800 Kit (996527) - Another great budget choice is this 5-5-5-12 1.8V kit from Mushkin that we have used in several of our lab machines. The heatspreader features Mushkin's trademark design and true to their name, this kit offers some overclocking headroom on a budget price. A small bump in voltage to 1.9V got us to 4-5-4-12 timings at DDR2-800 and up to DDR2-900 at 5-5-5-15 timings. We took one more bump in voltage up to 2.0V to reach 4-5-4-15 timings at DDR2-900 and then hit DDR2-960 with 5-5-5-18 timings. The kit goes for around $30 and current rebates bring it down to $23 with a limited lifetime warranty and very good customer service.
Kingston 2GB DDR2-800 Kit (KVR800D2N5K2/2G) - Our final suggestion in the budget 2GB series comes from Kingston. This ValueRAM kit offers 5-5-5-18 timings at 1.8V and we hit DDR2-900 at 5-5-5-15 with 2.0V. Kingston offers a limited lifetime warranty, extensive support, and excellent customer service for a very respectable $25 street price.
4GB DDR2-800
As stated earlier, we really believe users should not purchase less than 4GB today, and if you run a 64-bit operating system we think 8GB is fast becoming the sweet spot now for those who game and do heavy video/audio work. In regards to performance, we think a CAS 4 DDR2-800 kit will suffice for most users and the majority of these kits will still offer decent overclocking headroom compared to the CAS5 modules. However, except for benchmarking, the true performance difference between CAS4 and CAS5 modules at DDR2-800 is minimal with performance not varying by more than 1%~3% in most applications.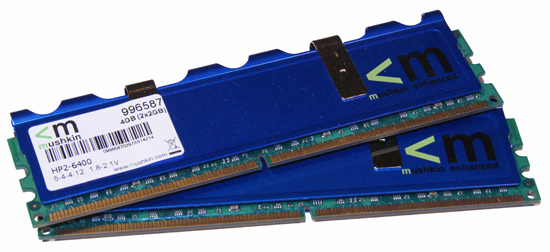 Mushkin 4GB DDR2-800 Kit (996587) - This kit is rated at 5-4-4-12 on 1.8V although most motherboards will detect and set timings to 5-5-5-15. We were surprised with the overclocking capabilities of this kit with a final speed rating at 1066 with 5-5-5-18 timings on 2.05V. We easily hit DDR2-900 with 5-4-4-15 timings on 1.90V. The kit lists for $49 but a current rebate special brings the price down to $30 and into our budget category. We tested Mushkin's rebate process on an earlier purchase and received our check in 33 days, so we trust them enough to recommend this product in the budget section based on the rebate process.
G.Skill 4GB DDR2-800 Kit (F2-6400CL5D-4GBPQ) - One of our favorite "budget" 4GB kit comes from G.Skill and features 5-5-5-15 timings at 1.8V. Featuring a $40 street price, this kit is compatible with every motherboard we have thrown at it in the labs. While not a kit designed for overclocking, we were able to get an absolutely stable 4-5-4-15 timings at DDR2-800 with 2.0V and a final clock speed of DDR2-960 at 5-5-5-15 on 1.95V.
Kingston 4GB DDR2-800 Kit (KVR800D2N5K2/4G) - Another entry for Kingston in the budget area is a 4GB kit featuring 5-6-6-18 timings at 1.8V, although we had no issues running 5-5-5-15 at 1.8V. A slight bump in voltage resulted in a final DDR2-920 speed at 5-5-5-18 at 1.95V. This kit goes for a street price around $37.
There are several other good alternatives in this category if you like a specific vendor. In fact, one of the better rebate specials comes from Corsair on their TWIN2X4096-6400C5 G kit that lists for $55 and is available now for $25. This kit features 5-5-5-18 timings at 1.9V, though our boards ran these timings at 1.8V just fine. OCZ and Patriot are both offering high quality 4GB kits for under $20 with a rebate that require around 1.90V to run at the rated speeds; otherwise we had to set 5-4-4-12 timings on 1.8V.