Badaboom 1.1 Preview
Elemental was nice enough to get us a preview build of Badaboom 1.1, due out in the next week or so.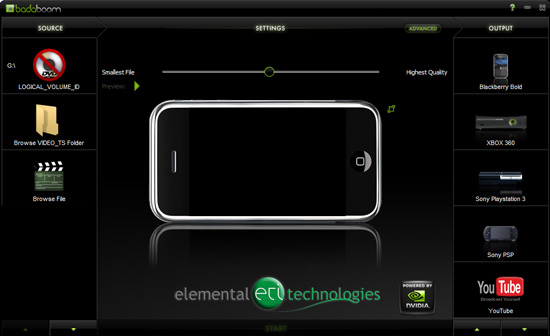 The 1.1 release is pretty significant, arguably just as significant as 1.0 given the list of improvements:
This version offers additional input files, including DivX, Xvid, VC-1, and MKV. The file formats in 1.0 are still supported.

- H.264 Main profile output.
- 1920x1080 (1080p) output.
- New output profiles: Blackberry Bold, YouTube, and Zune.
- Multi-GPU capability: Badaboom can now let you select which CUDA-enabled GPU to run the transcoding on in the Advanced options. You can open multiple Badaboom applications and run different video files simultaneously on different GPUs, seeing similar high performance as you see with running Badaboom now. For example, two NVIDIA GPUs can transcode two movies in the time it would take Badaboom 1.0 to transcode one. For this initial version, there are a couple caveats:

1. SLI must be disabled (if it is enabled) .
2. Each GPU needs to be connected to a display.
3. Each GPU must have a desktop enabled on it.
I'm not particularly interested in the multi-GPU support that 1.1 offers given the caveats, but the rest of the feature list is excellent. With DivX support you can now take your old DivX shows and movies, re-encode them using Badaboom to save space. While trying to transcode a DivX file in the early version of Badaboom failed miserably, it worked just fine in the 1.1 preview.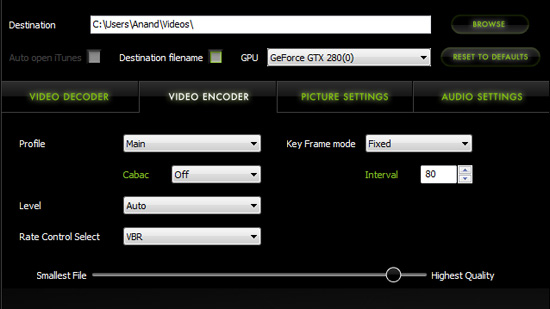 oh wow, real settings
Main profile with CABAC support is also enabled, making Badaboom 1.1 closer to a real alternative for high quality rips of DVDs and Blu-rays. The 1.1 beta isn't ready for prime time but I wanted to see what it could do, so I grabbed my Casino Royale Blu-ray, ripped it to the hard drive (resulting in a 46GB iso). The Blu-ray file structure is pretty straightforward, in the \BDMV\STREAM directory you'll find a bunch of m2ts files, in this case the 34GB 00000.m2ts file is the main 1080p movie.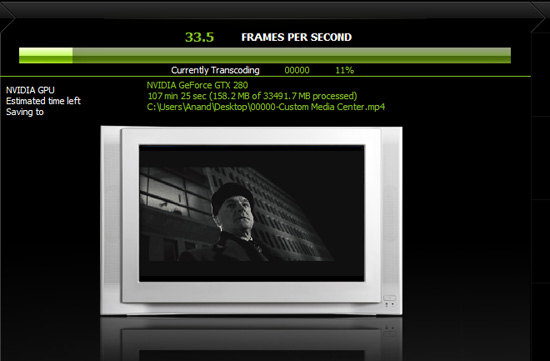 Please don't throw me in jail
Since I just ran the BD through AnyDVD HD it no longer had any encryption thus Badaboom was ok with transcoding it. To my surprise, it just worked. Using the Custom Media Center profile I was able to select a video bitrate of up to 25Mbps, I stuck with 11Mbps which should be enough for most < 50" HDTVs and normal viewing distances. The maximum audio bitrate is 320kbps, which is what I selected for the transcode. The resulting file was an 11.4GB .mp4 file that took 2 hours and 2 minutes to transcode at an average of 28.3 fps (note that this included the credits as well) on a GeForce GTX 280.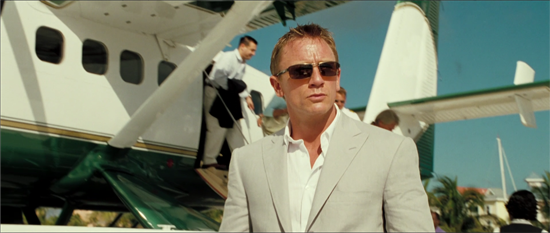 Click to Enlarge
The Blu-ray original was mastered at 24 fps, so with Badaboom on a GTX 280 we can get greater than real-time transcoding.
Delivering as promised, Elemental also enabled 1080p output with Badaboom 1.1. While I suspect that most people using to backup their Blu-ray collection will choose to go down to 720p since you can basically cut file sizes in half and maintain good enough quality for most HD displays.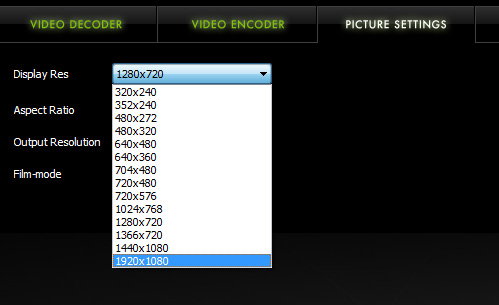 The biggest limitation I see is that the output file is relatively useless on a HTPC. While Badaboom can provide a quick and easy way to rip a Blu-ray to a smaller, more backup-friendly format, you do lose the ability to preserve the DD/DTS audio tracks. Forget about lossless 7.1 support, I'm just talking about maintaining basic DD/DTS 5.1 that your HTPC/receiver are already setup to play.
Elemental still dodges the bullet of having to be a real Blu-ray backup solution by not addressing the audio side of the equation, but it's clear where Badaboom is headed. I'm still looking into how well it fares on the image quality side compared to x264, but for now it looks like Badaboom 1.1 has potential in this department.
The real competition will be Intel's Core i7 which, thanks to its incredible encoding performance can actually do quite well in the HD transcode department. NVIDIA has the advantage of its GPUs being much cheaper (you don't have to buy a whole new platform) but at least at this point Intel has the quality advantage given that the best audio/video transcoding tools on the market are still x86-only and without a CUDA counterpart.