Ordering Impressions
Velocity Micro's website comes up immediately from a web search. They've generally received positive press coverage, and they carry a 7.73 six month / 8.47 lifetime rating on ResellerRatings.com. As has been mentioned before, many factors must be taken into consideration besides the raw score, but often the customer feedback is useful to read through. Quite a few posts point to satisfaction with the build quality and customer support, and VM responded to several of the "Dissatisfied" posts. One item worth noting from that feedback is 24/7 tech support is only an available option when ordering through the website, not from retail stores such as Best Buy.
Velocity Micro's website is well designed, good looking, and breaks down the product categories clearly with a reasonable number of choices in each (7 gaming, 3 Digital Media, 5 Home Office, 3 Notebooks, and 5 Home Theater).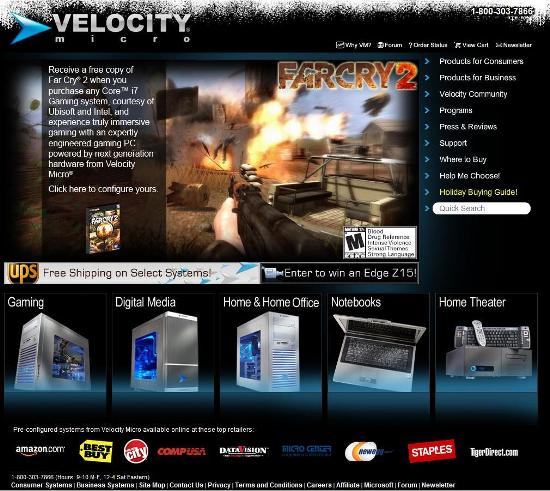 Their least expensive gaming machine starts at $799, though that base configuration is with an ATI HD 3450 that won't get you very far with any modern game except at very low resolutions/detail settings. The highest end configuration is the Raptor Signature Edition, starting at $5499. The system we're looking at is a Core i7 equipped Edge Z55, which costs around $3600 as configured (see the Specifications page for more information).
The ordering process is very straightforward; clicking "Configure Now" will load the base configuration with the preselected options, along with a "Your Performance" metric that follows you on the right hand side as the price updates with option changes. There are also links to launch a live chat session with a customer service representative and a "Finance Now" button that links to a VM credit card application.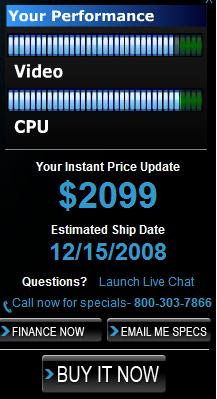 Overall there are a reasonable number of options for each component, though some of the options are priced higher than we'd like to see (such as video cards), and unlike many custom gaming PC makers there were a lack of CPU cooling options. This is somewhat forgivable with the Core i7 as new coolers and adapter plates are being released, but their Edge Z15 Core 2 systems only offer one option other than the Intel stock heatsink, and even their top-of-the-line $5500 Raptor uses a stock Intel heatsink/fan. This definitely holds back their cooling ability and everything that follows from that (overclocking limits and potentially long-term stability). Speaking of overclocking, there's no mention of it during ordering - just that each system receives individual "performance tuning"; i.e., there is no way to pay for a guaranteed overclock covered by the warranty, unlike with other gaming companies. The question marks next to each component give popups that are generally not helpful; the Live Chat would be a much better resource to get questions answered.
At the time of writing, the Edge Z55 comes with a free gaming bundle of Far Cry 2, Ghost Recon, Lost Planet, and Supreme Commander. This is a good selection and definitely value added software for a gaming rig. A free T-shirt is also offered, but sorry, only in XL.
Their telephone support number was extremely easy to find at the bottom of every webpage (main number, extension 5), which we appreciate, and in addition there is a "Live Chat" feature available during business hours. Support hours are Mon-Fri. 9am - 10pm EST. Available for purchase at an additional cost, there is also a 24/7 number available for emergencies only (e.g. system will not boot) that allows one to reach an on-call technician. Calculating shipping unfortunately requires a login via email - this is a big pet peeve, as it's a hassle for potential customers. Likewise, shipping is a fixed charge not tied to location; the Edge Z5 came up at $79. This is clearly priced above actual cost, as we've seen cases twice as large ship cross country for less, but it may be easier for VM to charge a flat rate. Regardless, it'd be nice to pay actual shipping charges.
A brief list of Pros and Cons regarding the website layout and content is as follows:
Pros
Website easy to find and well laid out

Good product segregation

Easy ordering process

Live Chat option

Prominent support information
Cons
CPU cooling options very limited

"Help me Choose" not helpful

Shipping calculation requires login, rates fixed and somewhat high