Building a GPU for the Masses
AMD put up this graph at its recent Financial Analyst Day: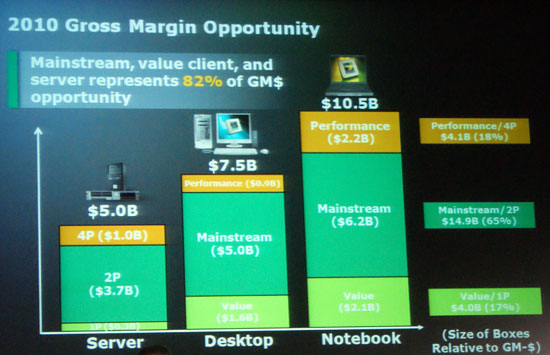 The performance segment of the desktop CPU market is only about 7% of the pie and although it generates a disproportionately large amount of revenue it's neither the biggest segment nor the biggest revenue generator in the market. That would be the mainstream segment.
ATI realized much of the same thing back in 2005. These high end GPUs were getting more and more expensive, while R300 tipped the scales at $399 over the coming years we'd see GPUs hit $499, $599 and go north of $600 at launch. The higher prices were due to increasing die sizes and techniques such as harvesting, ensuring that regardless of how big the GPU, revenues were protected.
A $399 R300 was close enough to the mainstream price points that ATI was able to scale it down months later to address other markets, but these days the time between the high end GPU introduction and the mainstream revisions of it has increased to 6 - 9 months. We still don't have a mainstream derivative of NVIDIA's GT200 architecture and chances are that we won't until around 9 months after its introduction. With the GeForce GTX 280 launching at $600, for it to take 9 months to make a $200 derivative is doing the market a disservice in ATI's eyes.
It was time to refocus. Instead of tailoring to the needs of the high end, ATI wanted to make a product that would be the best in the $200 - $300 range. To do so would mean that it would have to reverse the strategy that made it successful to begin with, and hope that somehow NVIDIA wouldn't follow suit.