Features-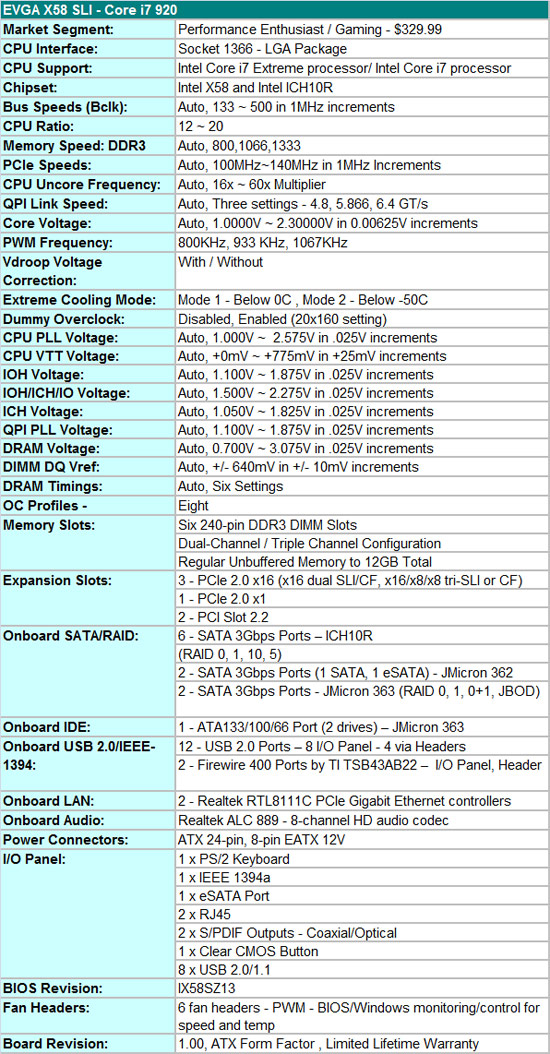 There are not too many bells and whistles on the EVGA X58 SLI from a hardware feature viewpoint and considering the market for this board, we think it is a good choice. The almost universal Realtek RTL-8111C PCIe Gigabit Ethernet controllers are utilized in tandem, the Realtek ALC-889 is on board for HD audio, JMicron's JMB362/363 chipsets are tabbed for eSATA, IDE, and additional SATA port duties. TI is selected for IEEE 1394a and the Intel ICH10R is utilized for primary storage purposes. We have never been real big fans of either Realtek or JMicron, but considering the dearth of competition in the on-board peripheral market, you make do with the provided choices.
The BIOS is designed to get the most out of the board when overclocking. At first glance, some of the available options like the number of memory timing options seem sparse compared to the ASUS and Gigabyte offerings. However, EVGA does a very good job of setting sub-timings to optimal points so far in our testing. We still prefer the ability to set additional memory timings and skew levels ourselves, but we can certainly live with the decisions made by the BIOS, although those at the bleeding edge of benchmarking would probably prefer the additional control level in either the ASUS or Gigabyte products.
In a nod to the users who like to cool their systems via cascade or LN2, EVGA provides two different modes to properly set the board at POST for sub-zero temperatures. Those who love or need voltages to improve clock speeds will not have any problems with the choices provided by EVGA. DRAM voltages sky rocket up to 3.075V and VCore goes to a nice silicon melting 2.3000V. VDroop control can be enabled or disabled.
Also, you can fine tune the frequency level on the digital PWMs. We normally left it at 800KHz to help reduce temperatures in the CPU area but switched 1067KHz when overclocking our i920 past 4GHz. We were able to get an additional 80MHz out of our CPU on air by switching from 800 to 1067 once we passed 4GHz. EVGA also provides a setting called a dummy overclock, quite simply, enable this setting and the board will set itself to run a 20x160 overclock on the i920. We found the settings to be perfectly stable in our initial benchmarks.
EVGA also supports a stock 1333MHz memory speed on the i920/i940 processors along with opening up QPI link speeds from a standard 4.800 GT/s up to 6.400 GT/s, which is standard on the i965 Extreme processor. We were disappointed with the lack of OC profiles in the initial BIOS, but a BIOS update today allows a total of eight profiles to be saved. Other problems raised in our blog preview have also been solved as of today with BIOS IX58SZ13. We are at the point in testing now that we have moved past bug finding and resolution to fine tuning our settings for performance oriented results.
Finally, the board fully supports 12GB of DDR3 memory. We have not had any real problems running 12GB of our Corsair, Patriot, or GSkill DDR3-1600 kits up to 1600 at 8-8-8-24 1T timings, although we needed about 1.70V for absolute stability. Dropping the command rate to 2T allows 1.65V operation with the current BIOS. Psssttt… keeping CPU VTT voltage in proper sync with VDimm along with the right level of VCore and that nasty 1.65V VDimm guidance can go away, although the blue suits still say it is a potential warranty buster.
One last item of note, at least in this first look, is that the three PCI Express 2.0 x16 slots will operate in x16/x16 mode for 2x SLI/CF if the third x16 slot is empty. If you decide to place a PCIe RAID, network, audio, or TV tuner card in the third x16 slot, then the 2x SLI/CF configuration will operate in x16/x8 mode. We did not notice any performance differences between the two modes with our HD 4870 or GTX 260 cards. 3x SLI/CF configurations will run in x16/x8/x8 mode. You can also use the first and third x16 slots for graphics if you need to open up a PCI slot but the board will run in x16/x8 mode. Although the owner's manual states the three x16 slots are for graphics cards only, we had no problems running our ASUS Xonar D2X or Highpoint Rocket RAID cards in x16 slot two or three.