Packaging and Appearance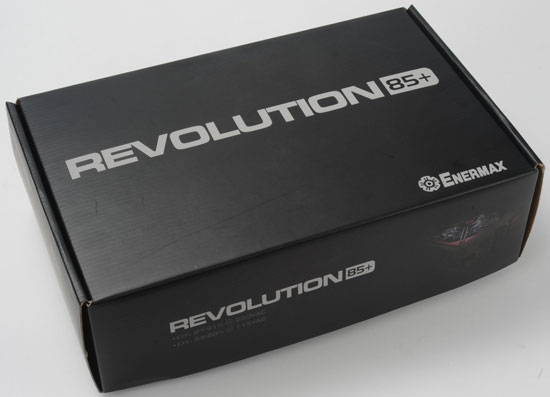 The power supply comes in a sleek black package, with only the most important information printed in light grey on the front and sides. The back contains more information such as features and specifications. Naturally there's a large 80 PLUS Silver logo on the back, going along with the Revolution 85+ name and alerting users to the fact that this is a high efficiency power supply.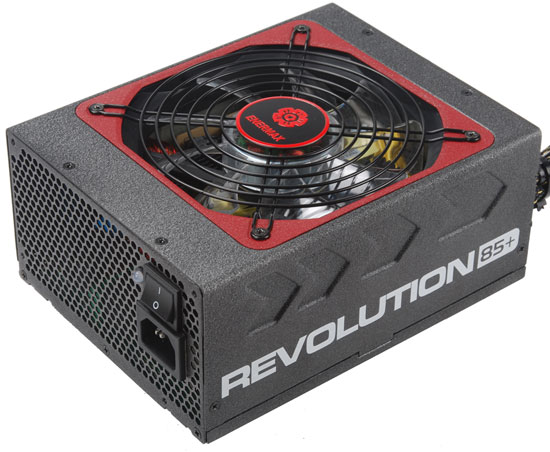 The appearance has totally changed from the pre-release model; it now comes in a rough sandblasted texture that reminds us of the Cooler Master UCP series. The fan grille is no longer gold but is instead black with a bright red plate and a red Enermax logo. The silkscreened Revolution 85+ is still on the side below the stamped arrows. As usual, the entire back is perforated to provide maximum airflow. The front (which will be inside of the chassis once the power supply is installed) has the jacks for the cable management system.
For PEG (PCI Express Graphics) connectors, Enermax uses 12-pin jacks and advertises them as being future-ready. The idea is that Enermax will be able to support new cable harness requirements with different connectors in the future while keeping the jacks the same. We have seen in the past how specifications in the industry change on a regular basis, so Enermax's approach is a nice extra and should help them keep ahead of the competition when it comes to supporting new standards.