Gaming Performance
We have already teased you with the results of our gaming benchmarks, but sometimes charts are easier to look at than tables. I should stress that to get any of these modern games to be even remotely CPU bound I had to drop resolution and image quality, which is fine for this as we're trying to evaluate whether or not Nehalem is architecturally faster. In the real world however, you'll not see any performance difference in any of these titles with Nehalem over Penryn.
We start off with our Age of Conan benchmark. This is a fraps test, we take our character and swim him to shore and back measuring performance during the process.
Note that to get this game to be at all CPU bound we had to drop to medium quality and run at 1280 x 1024: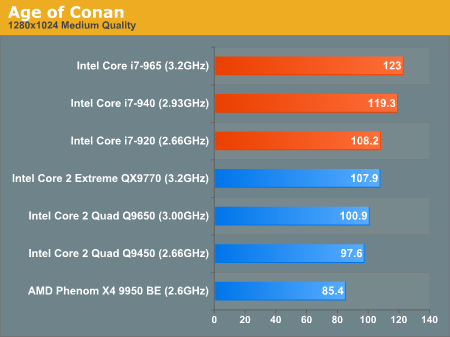 This is the only game where we see Nehalem boast such a tremendous performance advantage. I suspect that it's extremely sensitive to memory latency for some reason, resulting in the i7-920 being faster than the QX9770.
Our GRID benchmark is a fraps test that measures frame rate at the very beginning of a race with our car starting at the back and then crashing into a wall: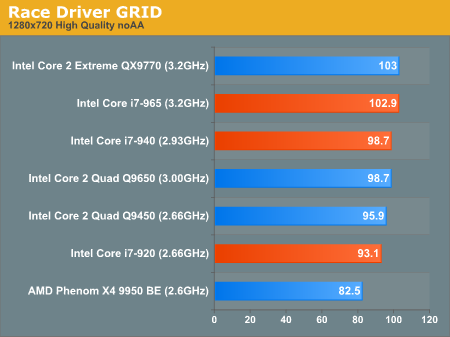 While racing games are usually great physics tests, GRID just wasn't CPU bound enough to show serious differences between the CPUs. Nehalem and Penryn are basically no different here.
For Crysis we ran the built in CPU2 benchmark on version 1.21 of the game: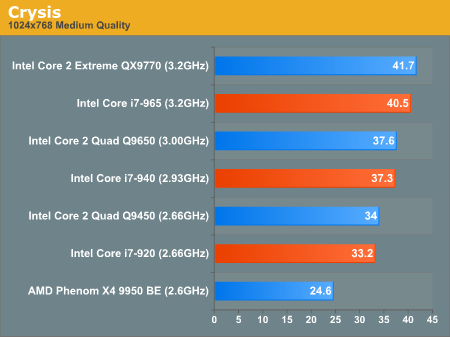 Like GRID, Nehalem offers nothing over Penryn in the performance department.
Far Cry 2's built in benchmark tool using the Ranch small test brings us our next set of numbers: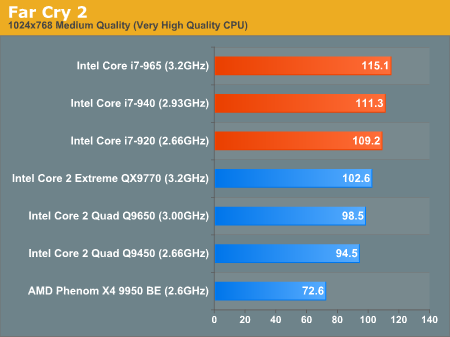 Here we have another game that favors the Core i7's architecture, but as we just saw it's not an across the board sort of win as some games miss Penryn's larger L2 cache.
Our last benchmark is a walk towards Megaton in Fallout 3: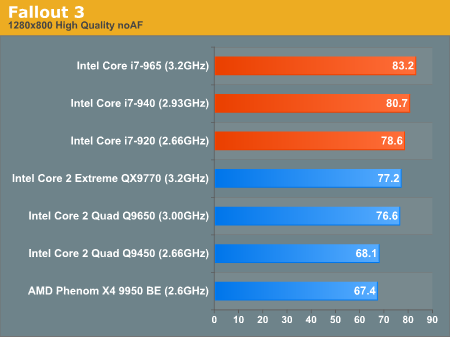 The edge goes to Intel's Core i7 once again.
Overall in gaming tests the situations where Nehalem was faster than Penryn outnumbered those where it didn't, but upgrading to Nehalem for faster gaming performance doesn't make sense. We were entirely too GPU bound in all of these titles, if you want Nehalem it should be because of its performance elsewhere.