The Chipset - Meet Intel's X58
Nehalem moves the North Bridge and memory controller on-die, but just like in the AMD world there's still a need for an off-die chipset, in this case it's Intel's brand new X58.
The Intel X58 chipset is a two chip solution although later next year Intel will introduce a single chip solution alongside the mainstream version of Nehalem (which will use a different socket). Traditionally Intel referred to its North Bridge as the MCH, shorthand for Memory Controller Hub; that definition no longer applies to Nehalem so X58 is called an I/O Hub (IOH).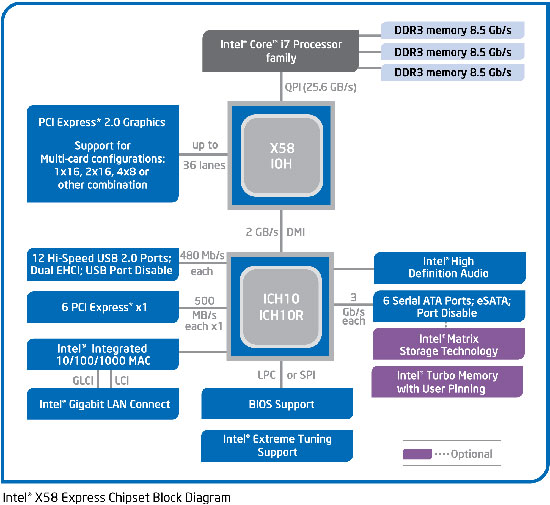 The X58 IOH attaches to the same ICH10 (I/O Controller Hub) that is used in Intel's 4-series chipsets.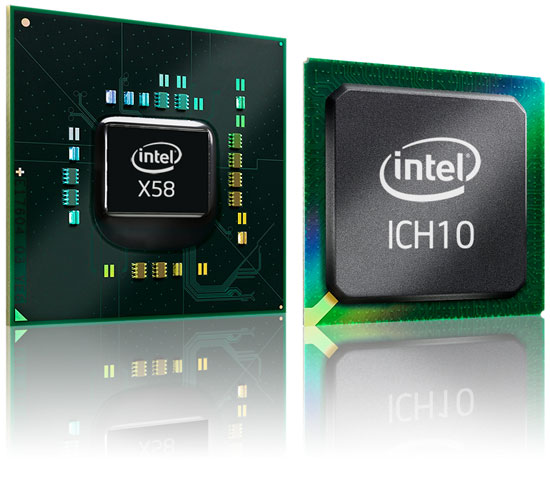 The biggest feature of X58 is that with proper "certification" by NVIDIA, motherboard makers can include support for the right BIOS flags to allow NVIDIA's drivers to enable SLI on the platform. Meaning the X58 will be the first Intel chipset to support both CrossFire and SLI multi-GPU solutions without the use of any NVIDIA silicon. There's a per-motherboard fee from NVIDIA for each certified X58 board sold and thus not all boards will be certified, the most prominent of which is Intel's own X58 board. Luckily we also had access to ASUS' P6T Deluxe which is certified, giving us the ability to look at CrossFire and SLI scaling on X58 vs. other platforms.