Battery Life
Gaming and application performance is all well and good, but many users looking at notebooks really care about battery life. Let's see how these laptops fare in comparison to the other notebooks we've tested, although quite a few of the notebooks we tested previously are gaming models so battery life is lower on those models.
For battery life testing, we run all laptops at around 100 nits brightness. If you choose to run your LCD at maximum brightness, you may lose anywhere from 10 to 60 minutes depending on the laptop - the latter is mostly for ultra-mobile options while the former is for gaming notebooks. We run four different battery life scenarios: Internet surfing (load several webpages using the wireless adapter every minute until the battery dies), DVD playback, x264 playback, and idle (maximum) battery life. For x264 playback, we copy a 720p file to the hard drive and loop playback using Windows Media Player Classic. We will also include battery life results for Blu-ray playback in the DVD chart where appropriate. We've also included web surfing results (and DVD for the MBP) for the latest Apple MacBooks as a point of reference. (Yeah, it isn't pretty….)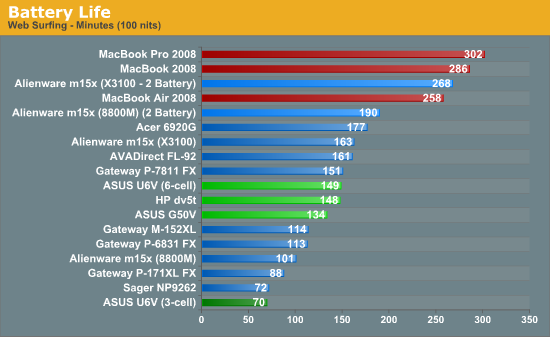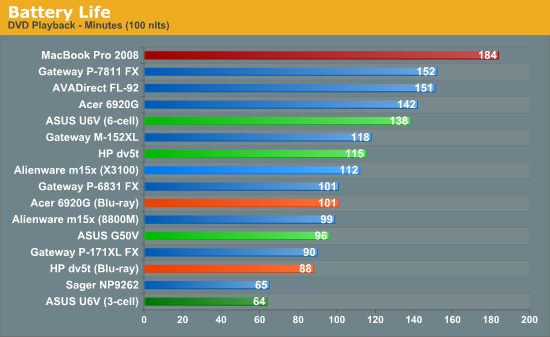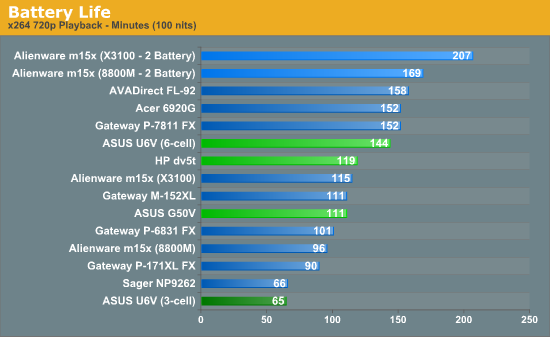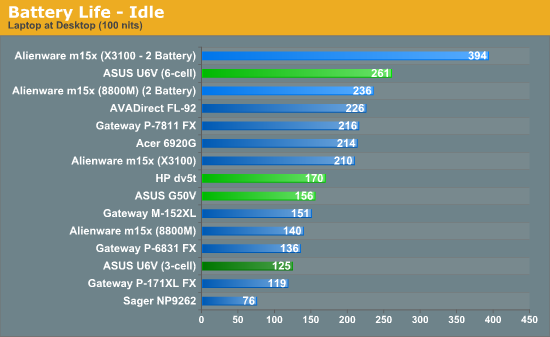 Considering the different battery sizes, it's not too surprising to see the midrange notebooks surpassing most of the other laptops. Unfortunately for the Windows users of the world, the MacBooks running OS X all severely trounce what the PC notebooks can provide; the best the PC can muster is the Alienware m15x with two batteries running on the integrated X3100 graphics - hardly a fair fight, considering the total battery capacity is about twice what you find in the MacBook Pro. Also rather shocking is that the U6V really doesn't do as well as you would expect, given its smaller size. If we remove the dual-battery Alienware from the list (and ignore the MacBooks), the U6V is beat by several of the other notebooks… with one exception. Oddly enough, in idle battery life the U6V shows that it can offer up to 15% more battery life than the next closest competitor.
Again, the big problem is that in similar testing Apple's MacBook and MacBook Pro provide an almost untouchable amount of battery life. To give you a true apples-to-Apples comparison, we've calculated the amount of battery life you get per Whr (Watt Hour) of battery capacity: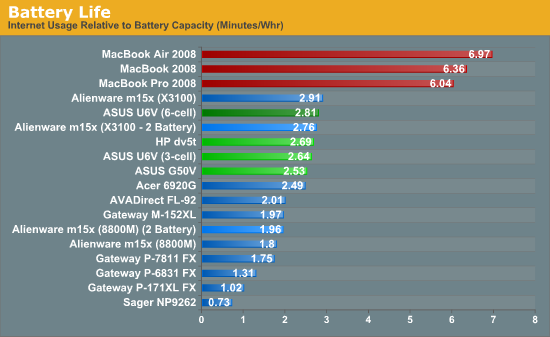 If the earlier battery results made the Vista systems look bad, this graph is even worse! The MacBook Pro offers over six minutes of battery life per Whr, and the best Vista laptop we've tested posts a paltry score of less than three minutes per Whr. We mentioned this earlier in our MacBook 2008 review, but the results here are beyond terrible. Setting the power scheme to "Battery Saver" instead of "Balanced" (the default in our testing) improved battery life by a few percent, which is still a far cry from what Apple is managing under OS X. The million dollar question of course is whether this is a flaw with Vista, or just something that the notebooks we've tested are not handling properly. Until we can actually find a Vista PC that can come close to six minutes per Whr, however, we're pretty confident in saying that the OS has a lot more to do with it than anything else.
Incidentally, we did run a quick battery life test under Express Gate (powered by SplashTop) on both the ASUS notebooks. That environment is based on Linux, and for ease of testing we decided to just go with a near-idle test (we set up another PC to ping each laptop once per minute to determine when power actually failed). It was pretty obvious that Express Gate isn't even remotely power optimized, as battery life was only 92 minutes on the G50V and 144 minutes on the U6V; it looks like the CPU ran at maximum speed throughout the test.