The Instruments: The Guitar and Mic
While the original Rock Band hardware will work with Rock Band 2 (which is nice), Harmonix did see fit to release updated versions for Rock Band 2. We'll start with the new guitar. Here it is: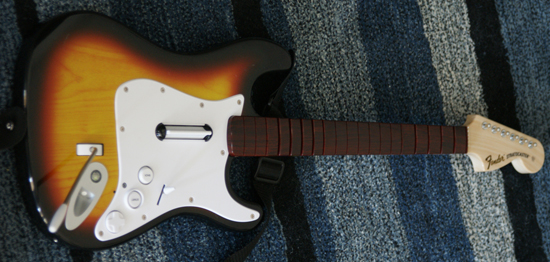 Hold your computer upside down to look at it if you're left handed.
The first thing people will likely notice is that it looks very similar to the first Rock Band guitar. The changes are mostly tweaks that improve the feel of the guitar when playing. The fret buttons feel a bit better to press down, and the strumbar feels more solid as well.
Not really sure what all that means? Let's take a look at the make up of a guitar controller.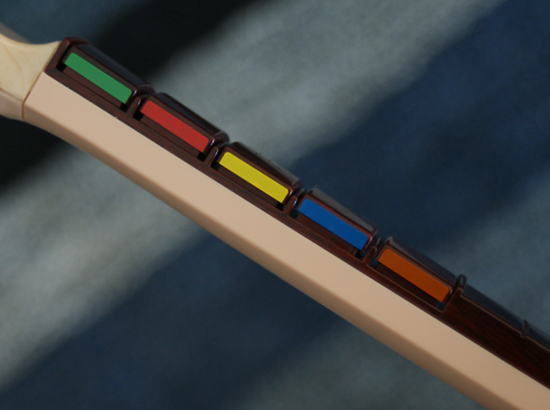 These are the fret buttons. You hold them down when the game tells you too.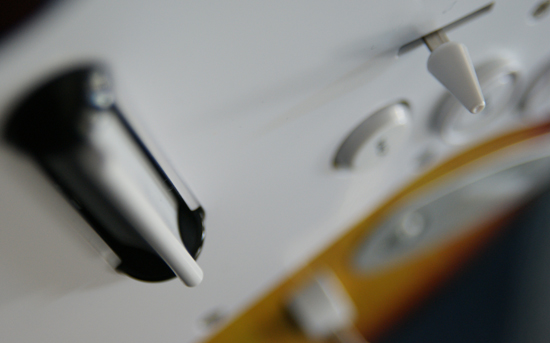 This is the strumbar. You "pluck" it ... like a string?
In order to play games with a guitar controller, a fret button (or two or three ...) is held down and then the strum bar is either pushed up or down to simulate "playing" the note. This can take some getting used to for people who haven't played guitar before. It imitates the way playing a guitar requires strings to be pressed down and then plucked to get different sounds. Guitar controllers are a little more forgiving with the timing of things, but the general idea is there.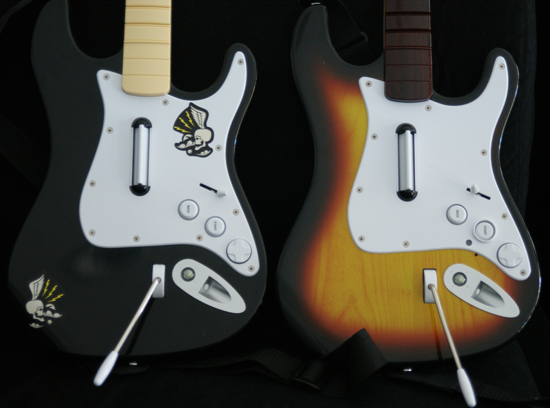 We haven't sticker'd up our new one yet.
Not all guitar controllers are created equal though. The Rock Band and Rock Band 2 guitars are only slightly different. But there is a much larger gap between the design of the Rock Band series of guitars and the Guitar Hero guitars. Some of the differences between the Rock Band and Guitar Hero guitars lead people to favor one style or another.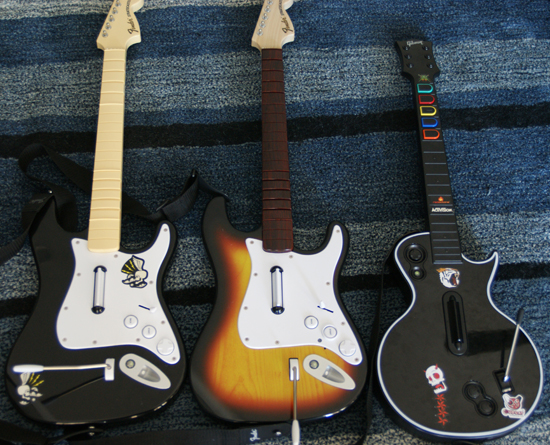 Pretty little maids all in a row.
In our opinion, the Guitar Hero strumbar is better as it has more tactile feedback. Many people prefer the way the buttons on the GH guitar are raised (making them a little easier to "find" if you get lost), but the RB and RB2 guitars are slightly more realistic in their design (with RB you feel ridges where frets with buttons slightly indented between as opposed to the raised and separated buttons on GH guitars). The kicker for us is that the Rock Band guitars feature buttons that are much easier to push down (the require less force to depress). This is a major plus, as playing fast or for long periods of time can be very difficult with the GH version (until you build up some major hand strength anyway).
The really new feature of the Rock Band 2 guitar is a built in camera and mic that can be used for automatic calibration. While automatic calibration is a great idea, there are some issues. But we'll cover that in the next section.
The guitar is wireless, and that's great, but it doesn't feature a rechargeable battery pack. It simply uses AA batteries. Wireless controllers just scream out for rechargeable batteries, especially when you've got the ability to charge over USB with the XBox 360. There is just no excuse for this.
Regardless of automatic calibration people are going to be polarized, and if you like one style of guitar controller you'll probably hate the other. For those who prefer the Rock Band guitar, the Rock Band 2 guitar is definitely improved, but not improved enough to warrant upgrading simply on the merits of the new version. At the same time, there's no reason to pick the older version if you need to buy a new controller.
The mic is still just a USB mic. It's not that great, and it isn't wireless. While everything else has the wireless option now, it's sad that we still have to be tethered to something with this one. But it does have a nice long cord and isn't going to really weigh you down that much. There isn't much interaction with the device really necessary, as it's just something you sing into.
It might be nicer not to require a controller to be used with it. Maybe Harmonix build a minimal range of buttons on there in the future to enable volume control and navigation around the screen a little easier. And then it'd be wireless and have more function. I wouldn't mind seeing a "premium" style mic with these sort of options. But for now, we're just stuck with a simple straight forward USB mic.