Blu-ray Power Consumption
Since we're dealing with an Intel platform from NVIDIA, the Cool'n'Quiet issues we mentioned in our previous article don't apply here. You simply get the best combination of low CPU utilization and very low power consumption when watching HD content: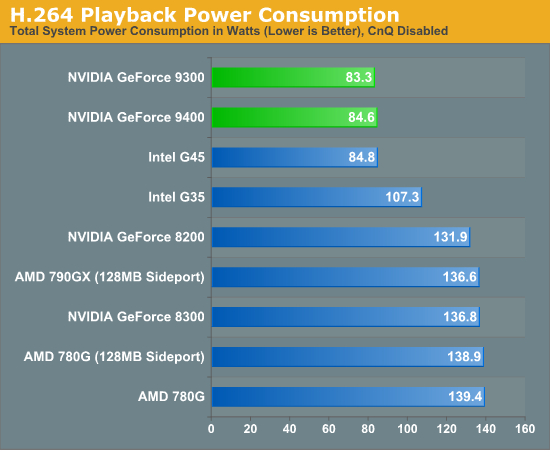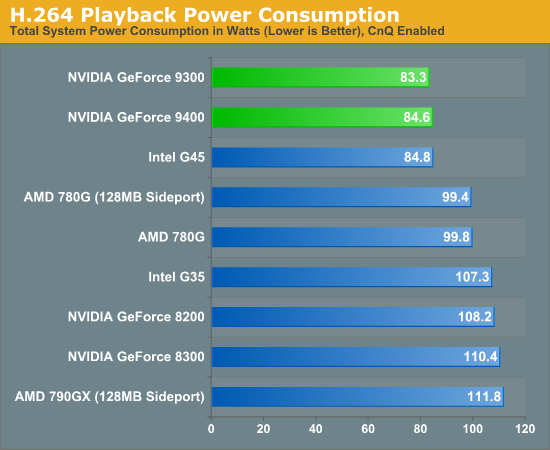 So far so good; we don't have any HDMI incompatibilities, no repeater issues to report, the GeForce 9300 just worked in all of our home theater setups. But how about the more niche features?
8-channel LPCM support comes natively with the GeForce 9300 and like on the Radeon HD 4xxx series, it just works. NVIDIA's platform drivers include an HDMI audio driver that, once installed, allows you to configure your audio output as 2, 6 or 8 channels. Of course bitstreaming both Dolby Digital and DTS audio is supported. Unfortunately, as we've mentioned before, there is no support for bitstreaming Dolby TrueHD or DTS-HD MA; you'll need to wait until sometime next year before you get full support there.
As we mentioned in our last article, proper 24Hz refresh rate support is particularly useful for playing back 24 fps content (which happens to be most movie content). Intel offers no support for 24Hz/24fps playback, AMD's implementation is a bit flaky, but NVIDIA's works flawlessly (at least with our test subjects). When connected to a display that supports a 24Hz input signal the option appears in the driver; just select it and you're good to go. The result is silky smooth playback of video content and it's nice.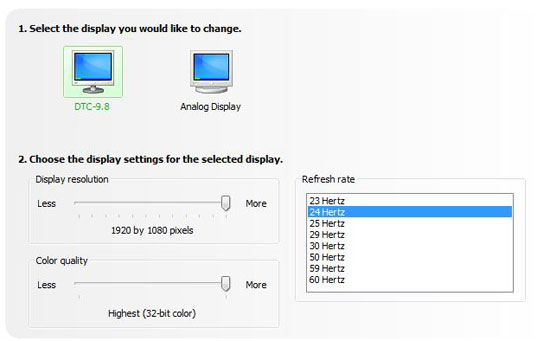 Short of TrueHD/DTS-HD MA support, NVIDIA's GeForce 9300 is the perfect HTPC chipset. The NVIDIA control panel even offers more post processing customization options than both AMD and Intel, although we're thankful that NVIDIA disables all of the features by default. Honestly the only other complaint we have is that we need to have a monitor hooked up to the system to first get it installed in our home theater setup; once properly configured it worked flawlessly with our Integra DTC-9.8 pre-processor and JVC DLA-RS2 projector setup. There is still need for improvement on the software side to enable users to build a computer and simply plug it into a HT setup without a monitor and have it work.
Good job NVIDIA, here's your crown. (Care for a service plan with that?)