Antec Micro Fusion Performance
We attached temperature diodes to the CPU cooler (as close as we could get to the area where it makes contact with the CPU), the chipset heatsink (IGP graphics), on top of the hard drive, and hanging in the middle of the chassis between the front and CPU cooler for the ambient readings.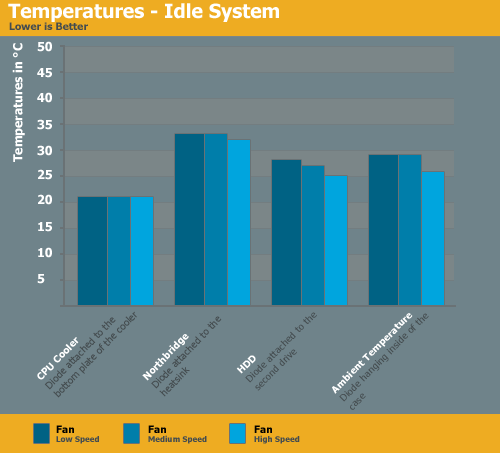 Throughout testing the CPU stayed at a steady 21°C, regardless of fan speed. The chipset lacks any active cooling and is therefore influenced more by the amount of airflow; however, the choice of CPU heatsink and fan works well with this particular motherboard, so temperatures again stay relatively constant. The hard drive is directly next to an intake fan, so it of course benefits from increased fan speeds. The difference isn't all that great, however, so we don't think it's enough to warrant the increased noise levels. Ambient temperatures are also relatively constant, but they do drop by 3°C with all of the fans at maximum speed.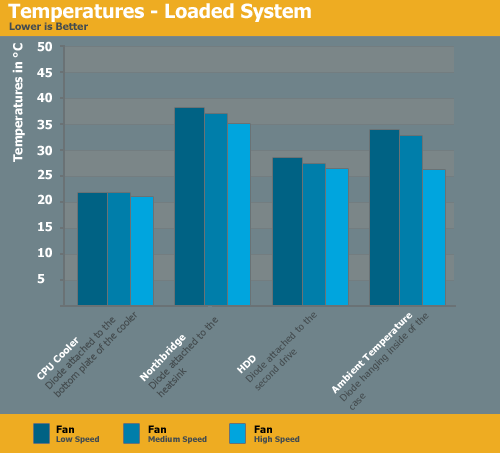 With the system fully loaded, the Zalman CNPS7700 cooler keeps the CPU at a nice temperature of just 22°C; at full speed it drops slightly to 21°C. The chipset temperatures are higher since it depends on passive cooling, with a difference of 3° based on fan speed. The hard drive shows similar results as well. Ambient case temperature showed the biggest change, dropping a full 8°C when comparing low speed to high speed fans.