Final Words
Where to begin...
As a HTPC solution G45 promises to be the chipset we've all been waiting for, but falls short. Honestly the best combination for a HTPC would probably be an Intel P45 based motherboard (G45 would also work) with an AMD Radeon HD 4670 (or its upcoming, passively cooled successor). The 4670 gives you chipset-agnostic support for 8-channel LPCM and it works better than any integrated solution I've seen thus far, not to mention that you still maintain hardware H.264/VC-1/MPEG-2 video decode acceleration.
If we discount G45 as the perfect HTPC platform (at least without a Radeon 48xx/46xx series add-in card), then it makes this analysis much simpler. As an upgrade to G35, the new chipset does have faster graphics performance, but it's still too low to actually be considered worthwhile for gaming. While G45 will run many titles, even older ones just don't run well at all - not much has changed on the graphics side it seems.
Power consumption is down since G35, but you're looking at a 8 - 11% reduction in total system power consumption by switching from G35 to G45 thanks to the smaller manufacturing process. The power benefits are obviously larger when Blu-ray playback is taken into consideration.
As a business PC platform, like all of Intel's integrated chipsets in the past, G45 works just fine. It's a reliable platform which, although ships with a number of more exotic features (8-channel LPCM, faster graphics), needs some external help to truly be more feature-filled. If you want basic Blu-ray acceleration, G45 offers that - just hook it up to your PC monitor and you're good to go. If you want more, you'll need an add-in card. If you want basic (and I mean basic) 3D acceleration, G45 can deliver. If you want to really give anything serious a try however, you'll need an add-in card.
G45 is a platform that could have been so much, a last hurrah of Intel's integrated graphics solutions, but in the end it amounts to little more than a mild evolution over its predecessors. It's hardly the caliber of product we're used to from Intel, especially given the CPU and SSD launches of late. G45 works, is it excellent? No.
Fix the HDMI repeater issues and we could get this thing into HTPCs at least. Gaming performance seems to have some potential but it's just severely limited in the vast majority of the titles we test. Assuming that you're not impacted by the HDMI repeater issues, and now that many of the early chipset quirks have been worked out, what G45 board should you get?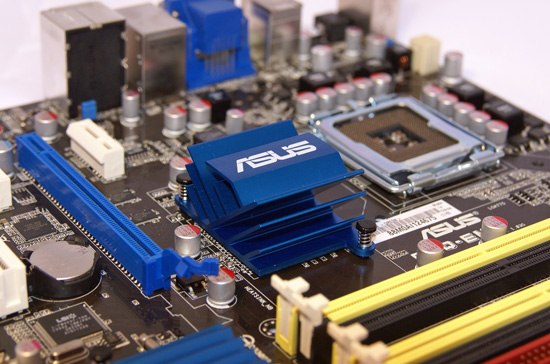 The Boards
Our selection of G45 based motherboards represents all of the models currently available in the market place. We expect to see additional G45 products from MSI, Foxconn, Biostar, and others coming to market in the next 60 days.
At this point, our favorite G45 board is the ASUS P5Q-EM based on its flexibility to provide the basis for a HTPC, SOHO, or SFF system. Of course, it is also the most expensive board in our group but for those who value quality, support, and the capability of this board to be utilized in a variety of ways then we believe the price differential is worth it.
The Gigabyte GA-EG45M-DS2H board certainly deserves serious attention but only for HTPC or SOHO activities. This board has a split personality. The feature set, BIOS options, and component selection indicate a board that could go toe to toe with the ASUS in an SFF system (maybe even win) while providing an equally pleasing customer experience in a HTPC/SOHO environment. However, Gigabyte decided not to provide a video card expansion option via the PCIe 2.0 x16 capable MCH and instead provides PCIe 1.1 x4 capability off the ICH. This limits the board from being used in a SFF system.
The Supermicro C2SEA is our only ATX based board along with DDR3 capability. The board is priced competitively with the uATX boards, but the current cost of DDR3 might turn away a few buyers. That is a real shame as this board offered excellent performance within the group and best-in-class power consumption numbers. Stability was just incredible and the board ran everything we could throw at without ever whimpering. If you want a set it up and forget about it system, then this is the board for you.
Now the two problem children, you know, the ones that you just want to love even though they frustrate you to no end. Frustration, that single word describes our experiences with the Intel DG45ID uATX and to a certain degree the DG45FC mini-ITX board. These fraternal twins share the same BIOS code and almost the same feature set, hence the same problems we had from hardware viewpoint.
Intel has solved the majority of our problem but the mere fact that we had problems that did not exist on the other boards confounds us. Intel designed this chipset and provided the core BIOS code for it, so one would think they had a leg up on their partners when releasing the product. These advantages did not work in their favor. That said, we truly do like both boards although the lack of processor voltages and a poor implementation of the fan control management system cause us concern for those looking to have a very quiet and efficient HTPC.
The price is right and Intel's support has been terrific for current products so we fully expect these boards to improve over time, hopefully the drivers improve at the same rate as the hardware. In the end, while we are not as enamored with the DG45ID compared to the other three uATX boards, it is still a good buy when taken into context for a base HTPC or SOHO system. The DG45FC excites us as we finally have a top line chipset available in a mini-TX form factor at a terrific price. We will take an in-depth look at it in the near future, but for now, it is a product with great promise. And one that we really want to see in our HTPC setup at some point.