What is Micro Four Thirds?
It is important to understand that Micro Four Thirds uses the exact same sensor as four thirds; there is no size reduction in the sensor. When compared to the Four Thirds System standard, the primary differences in the Micro Four Thirds System are: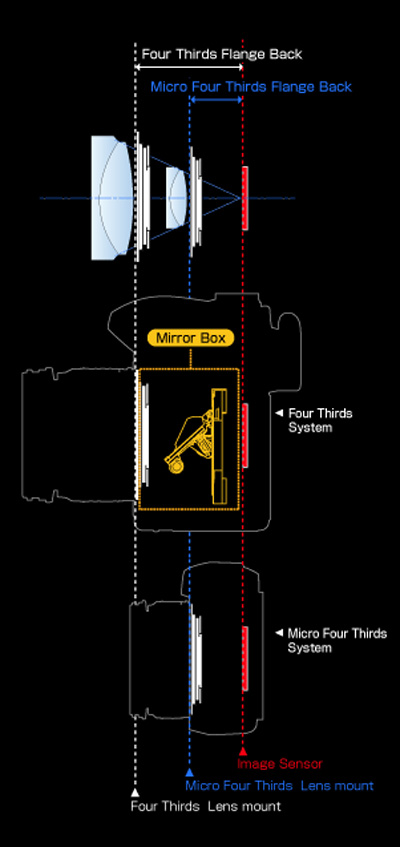 Approximately 50% shorter flange back distance (mount-to-sensor distance): With the optical SLR viewfinder replaced by an LCD or EVF (electronic view finder) - or both - the mount to sensor distance can be cut in half. This allows the lens to be designed without a back-focus requirement, which also greatly reduced the size.




6mm smaller lens mount outer diameter: Without the need for so much back-focus in lens designs for Micro Four Thirds, the diameter of the lens flange can be reduced, while still allowing designs for parallel light paths.




Electrical contacts in mount increased from 9 to 11: With viewfinder optics replaced by electronics, more electronic interfaces to the lens are required.
When the standard was announced, Olympus and Panasonic emphasized the compatibility of Micro Four Thirds with the current Four Thirds system and lenses. Micro Four Thirds, like Four Thirds, is also an open system that can be licensed by any manufacturer who wishes to use it.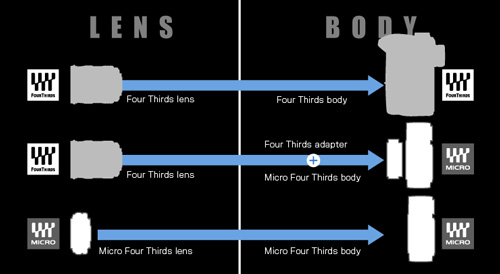 Four Thirds Compared
The Four Thirds standard is one of the smaller of the formats based on APS-C, but it is still about 75% of the area of the Canon XSi. However, compared to P&S sensors the Four Thirds sensor is huge.
DSLR Sensor Comparion
Camera
Effective
Sensor
Resolution
Sensor Area and Dimensions
% of Full-Frame
Sensor Density
(MP/cm2)
Olympus SP-579UZ
10.0
6.13x4.60
0.28 cm2
3.20%
36
Canon G9
12.1
7.60x5.70
0.43 cm2
5.10%
28
Panasonic G1
12.1
13.5x15
2.43 cm2
28.10%
4.98
Olympus E-520/E-3
10.0
13.5x18
2.43 cm2
28.10%
4
Canon XSi
12.2
14.8x22.2
3.28 cm2
38.00%
3.7
Sony A350
14.2
15.8x23.6
3.72 cm2
42.90%
3.8
Pentax K20D
14.6
15.6x23.4
3.65 cm2
42.20%
4
Canon 50D
15.1
14.9x22.3
3.32 cm2
38.40%
4.5
Sony A700, Nikon D300, Nikon D90
12.3
15x23.5
3.66 cm2
42.40%
3.3
Nikon D700/Nikon D3
12.1
24x36
8.64 cm2
100%
1.4
Canon 5D
12.7
24x36
8.64 cm2
100%
1.5
Canon 1Ds Mark III
21.1
24x36
8.64 cm2
100%
2.4
Sony A900
24.6
24x35.9
8.61 cm2
100%
2.9
If you have any doubt why the photo market has been moving to DSLR from P&S you have only to look at the last column detailing sensor density. At 12.1MP, the new Panasonic G1 will establish a new density high in the DSLR market at almost 5MP per cm2. However, the top-of-the-line Canon G9 P&S at 10MP has a tiny sensor by comparison and the density is 28 MP/cm2. The Olympus Super Zoom SP-570UZ is even worse at 36 MP/cm2.
The motivation for Micro Four Thirds should be crystal clear in this chart. Panasonic and Olympus are trying to extend their Four Thirds sensor technology to higher-end, higher-quality, but very small and pocketable interchangeable lens cameras. These new cameras will feature large hi-res LCD screens, full time Live View, and fast contrast-detect focusing. The top ones will also feature hi-res EVF, and video capabilities are mentioned in the Micro Four Thirds standard. It should be clear the idea is a new bridge technology that brings DSLR features, P&S features, and camcorder features together in a more compact and cheaper camera body. In doing this they will create a new camera class, or chart directions for future interchangeable lens cameras, depending on market acceptance.