Radeon HD 4670 vs. Last Year's $200 Offerings: The 3870/3850 Revisited
This is an interesting comparison. We included the 3850 in our 9500 GT article, as it was a fairly popular part that had fallen to $100. This time around we throw in the 3870 in order to see how the reduced clock speed and architectural changes impact performance. Let's take a look at the mayhem.
The 4670 really takes the 3850 to task under Crysis with medium settings. Impressively, the 4670 stays above 30 fps at 1920x1200 and does a fair job of paralleling the performance of the 3870 at about a 10fps deficit after 1280x1024.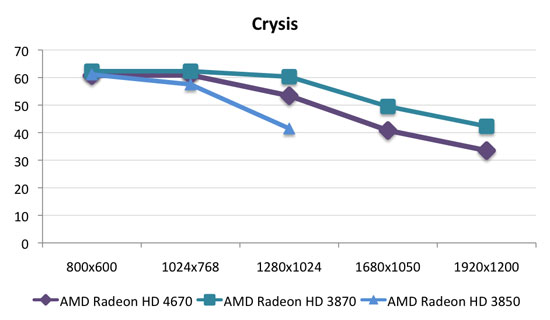 Our Enemy Territory benchmark has everything maxed out plus a little 4x antialiasing action. At low res, the 4670 actually leads the pack here. This is quite impressive and is our first inkling that maybe our hope about AA performance will prevail. The increased ROP power of the 4670 might also have an impact here, but either way this isn't a bad showing.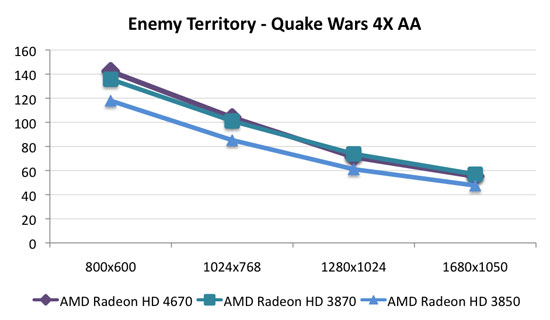 Both the 3870 and 3850 lead the 4670 in Oblivion with ultra high defaults and no AA. The 4670 remains playable up through 1680x1050, which is quite nice. But nothing really interesting happens until we consider what happens when we flick on the AA switch.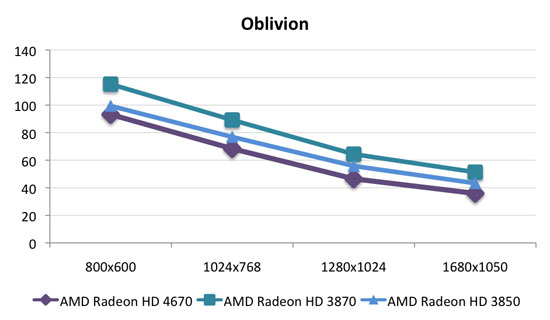 With 4xAA and 16xAF enabled, the tables are turned and the 4670 jumps on top. Staying barely playable at 1680x1050 with 4xAA (we'd still recommend dropping back to 1280x1024 though), the 4670 certainly looks to be on pace for delivering mainstream hardware with usable AA for resolutions that really need it while running at high quality settings.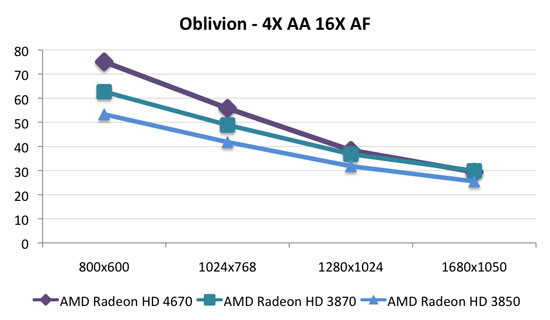 With Age of Conan, 1024x768 is really the highest res we can manage on the 4670 with high quality. The card performs similarly to the 3850 here.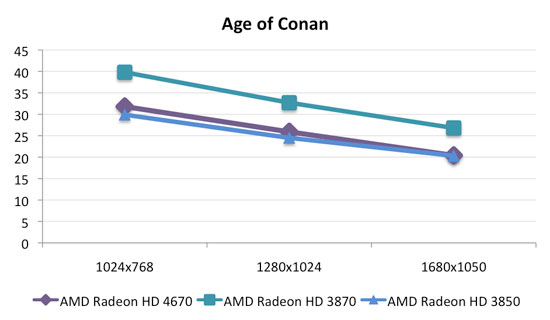 While AoC and GRID are ruled by the 4850 and 4870, the 4670 does lag the 3800 series cards. The game is still incredibly playable at 1280x1024 and we'll have to explore AA in this game a little later on as well.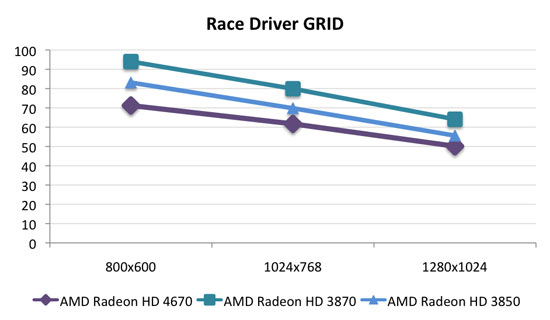 Last is a look at Crysis with high quality settings (and very high quality shaders). This is a tough benchmark and we only compared the 4670 against the 3870 here. The 4670 can't quite attain playability at 1280x1024 either. Looks like something between medium and high quality would suit the 4670 best.