The Killer App: Multitasking Performance
Here's where things get interesting. I ran two tests, in one I extracted a 5GB archive and tried to run Photoshop after 30 seconds of extraction and in the second test, I extracted a 5GB archive and tried to scan my system for viruses using NAV 2008. Simple enough, right? I'm reporting the times of each task individually.
The extraction task took the longest to complete but the standings speak for themselves: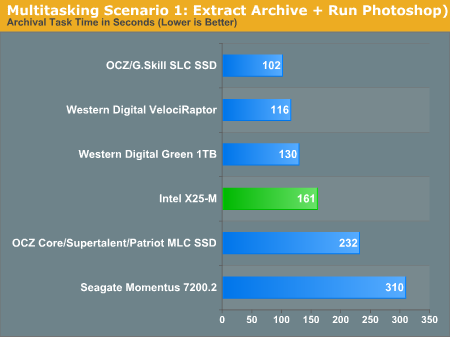 Here's one area where the Samsung SLC based devices actually come out ahead, by a good margin. The Samsung SLC SSD finished the extraction in 102 seconds, compared to 161 seconds for the X25-M. Even the VelociRaptor did better here at 116 seconds, but remember you need to look at both tasks for a complete picture: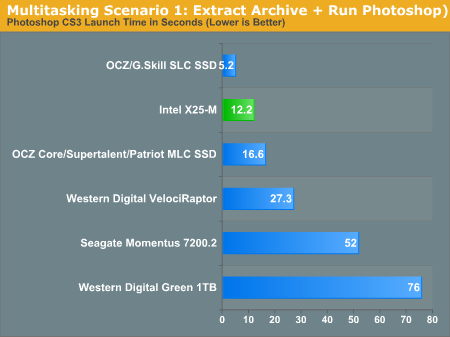 Launching Photoshop took 5.2 seconds for the Samsung SLC SSD, it was like we weren't even running another test in the background. The X25-M did fine at 12.2 seconds and the VelociRaptor was much slower at 27.3 seconds. The JMicron based MLC drives didn't do too bad here either, although they were a little slower than Intel's MLC offering.
The real stress test was this next multitasking scenario. Quite possibly one of the most annoying thing about viruses is having to run real time scanning and protection software all the time, especially with a traditional HDD in your system. The extraction task is the same as before, but the other task is a full system scan in Norton Anti-Virus 2008. I timed both: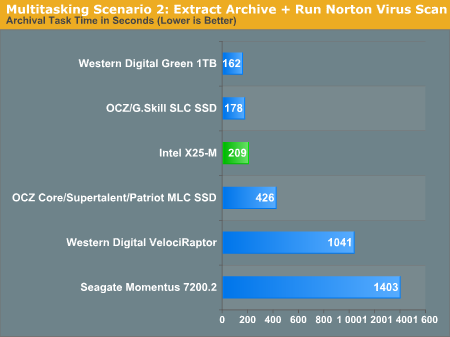 The WD 1TB drive would always complete the extraction task quicker than all of the other drives, but paid the penalty in the scan test (which is why you have to look at both charts for a full analysis). The Samsung SLC drive is still the overall winner here, followed closely by Intel's X25-M. The JMicron based MLC drives do horribly here, taking over twice as long to complete as Intel's MLC.
The mechanical disks however do a lot worse. While the Intel X25-M took 3.5 minutes to extract the 5GB archive, the VelociRaptor took over 17 minutes. The Seagate Momentus 7200.2 took over 23 minutes!
Let's look at the NAV results: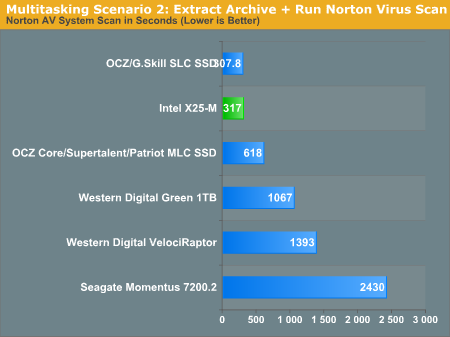 The X25-M took around 5.3 minutes, the Raptor needed more than 23 minutes and Seagate Momentus made me wait over 40 minutes. It's these sorts of usage scenarios that really make SSDs worthwhile, and they are the most realworld you can get. When we started looking at real world performance the PCMark Vantage numbers may have looked a bit ridiculous, but by now you should see that they are more of the middle ground when looking at performance of these drives.