Overall System Performance with SYSMark 2007
Our first test is the full SYSMark 2007 benchmark suite. It's a system-level performance test that measures performance based on average response time, making it a great candidate for our SSDs, which should provide pretty low response times, at least compared to standard mechanical disks.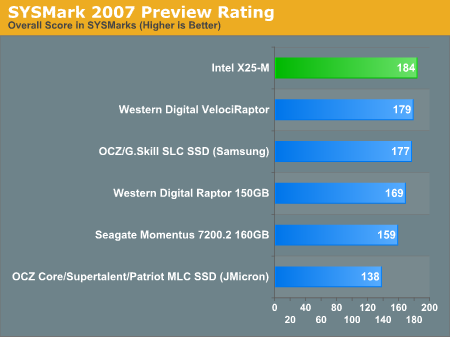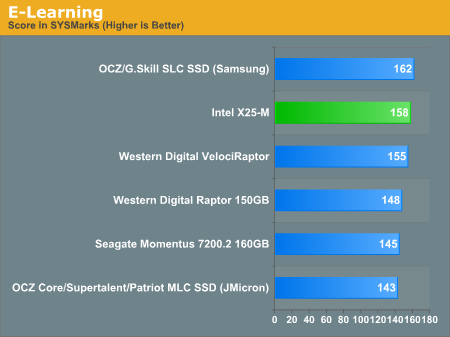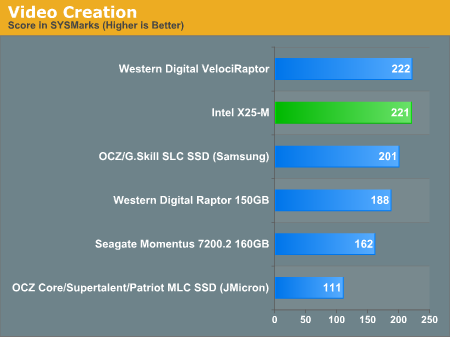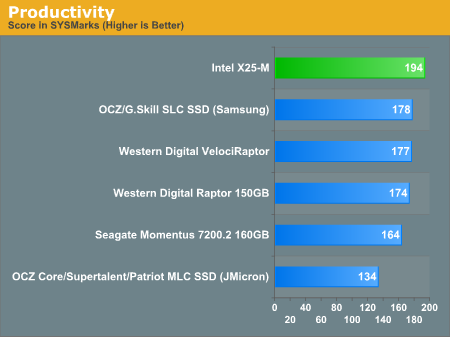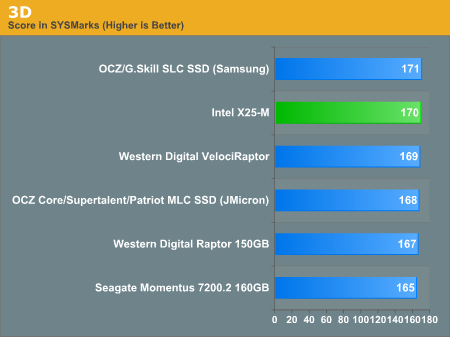 The Intel X25-M does very well here, just edging past the fastest desktop drive on the market and outperforming all other mechanical disks in its own 2.5" form factor. We saw a 15% increase in overall performance under SYSMark compared to the Seagate Momentus 7200.2; to get that sort of speed boost on a notebook would take Nehalem otherwise.
You'll notice that I threw in the 150GB Raptor in the mix as well, that's our current CPU testbed HDD. Our Q9450 saw performance go up by 9% thanks to the X25-M, that's more of a performance boost than you'd get by upgrading to a QX9650 and again, this is a system-level test, not disk specific.
Here you also see the problems with the JMicron equipped MLC drives, the Intel X25-M manages to outperform these drives by nearly 30%. The Video Creation test is particularly bad with the Intel X25-M garnering a score nearly 2x of the JMicron MLC drives. We've already established that the X25-M is the only MLC drive that you should consider, this simply helps provide more support.