Cables and Connectors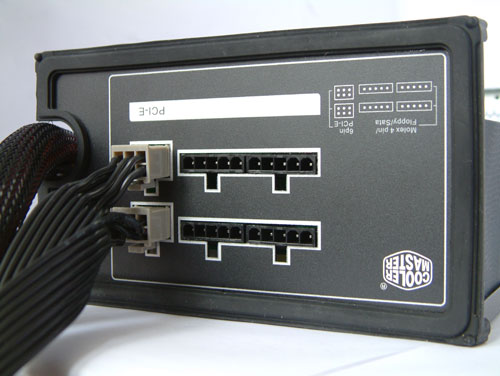 The cable management system is at the front of the power supply, as usual. There are two jacks for 6/8-pin PEG connectors (6+2 pins), providing support for up to two moderate graphics cards or a single high-end GPU. In addition there are four jacks that support flat 5-pin connectors used for the peripherals, supporting both SATA and Molex harnesses.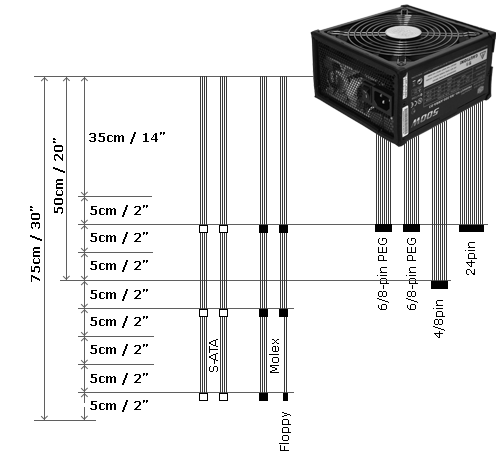 The maximum cable length of 70cm may not be long enough to reach all of the corners in larger cases, but the 500W rating suggests this is more for mid-towers where longer cable lengths aren't usually necessary. In particular, the main 24-pin ATX cable is only 40cm long, which could work either really well or not at all depending on the chassis. This power supply is a traditional design for top-mounted chassis, and it will definitely have problems if the PSU mounts at the bottom of the case. With six SATA, five Molex, and one floppy connector there are plenty of connectors for a normal midrange to high-end setup. If you need additional connections, you could always purchase splitter cables, but he might be better off simply purchasing a larger power supply in that case.
The Fan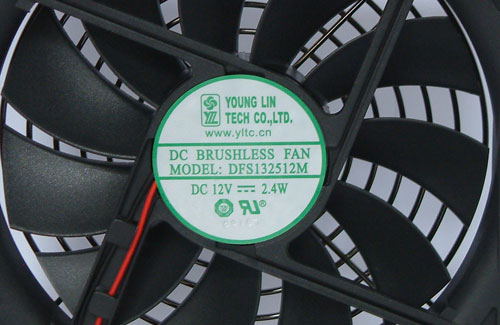 Young-Lin makes the fan, a sleeve bearing fan with the model number DFS132512M. Noise levels as we will see later are quite good.