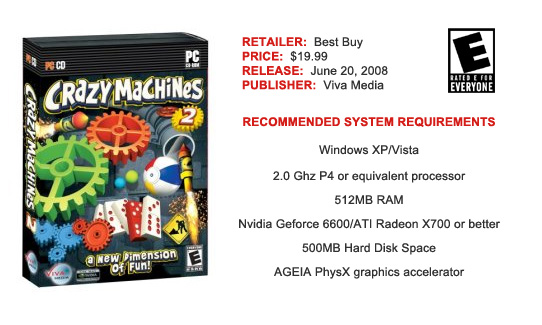 Remember when you were a kid and you set up some dominoes so that the last one to be knocked over would fall off the table? Remember taking it a step further and letting that domino fall in a bowl of water? This was fun, right? Sure it was. And you kept adding to your little experiment to achieve the ultimate outcome. Eventually, when the last domino fell, it landed on a see-saw made of tinker toys that launched an army man into the air, only to fall into your bowl of water now occupied by a rubber shark. Those were the days, weren't they? This next game will have you reliving those memories, this time with a much steeper learning curve.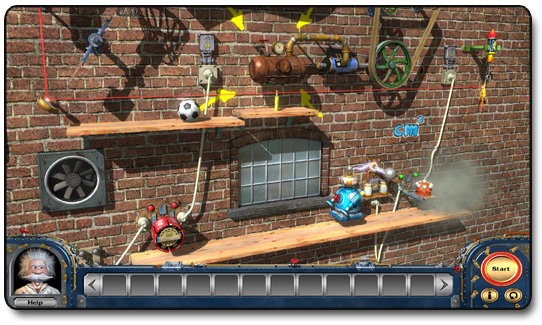 Crazy Machines 2, the sequel to 2005's Crazy Machines: The Wacky Contraptions Game, is quite possibly the puzzler to end all puzzlers. (Ed: Those who remember The Incredible Machine fondly can skip to the end and go purchase the game - assuming you haven't already done so.) The game sets the stage for each level by giving players an overall objective, such as popping a balloon or launching a rocket. To achieve these goals, the game offers an array of different objects that you use and manipulate in order to complete each experiment successfully. The first levels in the game are fairly straightforward, consisting of minimal input on your behalf. For instance, players will learn to create their setup that will allow a ball to roll down a hill, knock over an object, and watch that object fall into a basket. From here, the rules of the game get progressively more complicated.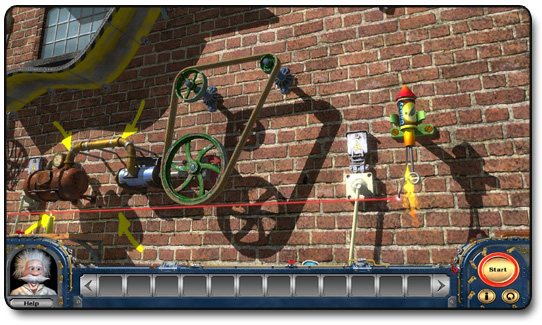 Once you get familiar with the basics, the difficulty level ramps up quite a bit as more and more elements come into play. For example, the falling domino must now land on a wind turbine that will spin, causing a set of gears to operate a conveyor belt whose passenger, a blow torch, must heat up a Bunsen burner, whose flame snaps a rubber band that was suspending a cannon ball that falls into a cannon that... doesn't go off. Wait a minute, what went wrong? Hmm, I placed everything where it should go. Oh, I see. I forgot to place the magnifying glass between the cannon and the table lamp, allowing for increased heat intensity that will light the fuse! These are the kind of things you'll run into while playing. Luckily, players have the ability to run through their little chain reactions repeatedly, adding, removing, and replacing different elements that will allow for the eventual completion of their objectives.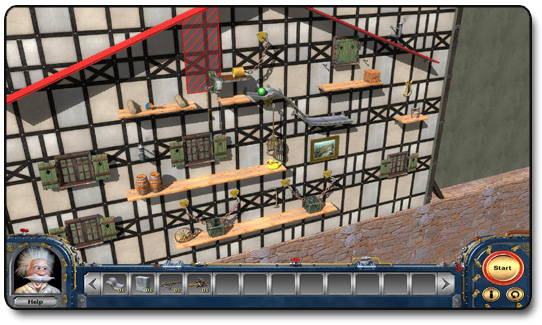 Crazy Machines 2 is a fun game, despite all the little annoyances and intricacies that will be present with each new attempt at an experiment. However, the games does feature a mode that lets you build your own experiments from the ground up, which can be as simple or complex as you want them to be. In that respect, the game caters to players of all mindsets. Another cool feature is the ability to download experiments that others have created for your own education and enjoyment. With these, you can view and manipulate the creations of others, thus offering tons of ideas to add to your own experiments.
Crazy Machines 2 is geekdom at its finest. There is a lot of fun to be had with the game, depending on one's patience and willingness to complete a fairly lengthy tutorial - which I strongly recommend doing before attempting the career mode... twice! While players with a tendency to get frustrated easily may spend little time with the game, those with a lust for complexity and heavy involvement can enjoy Crazy Machines 2 to their hearts' content. Those with a PhysX AGEIA card in their rig (Ed: Or the latest NVIDIA drivers, I'd assume?) can enjoy twenty additional levels designed specifically to take full advantage the hardware. Nice.