The first keynote of NVIDIA's first NVISION was...disappointing. I'm sorry, I just couldn't get into it. Journalists lamented Craig Barrett's IDF keynote as being too touchy feely, but the issues he was talking about were honestly more important than Larrabee or CUDA.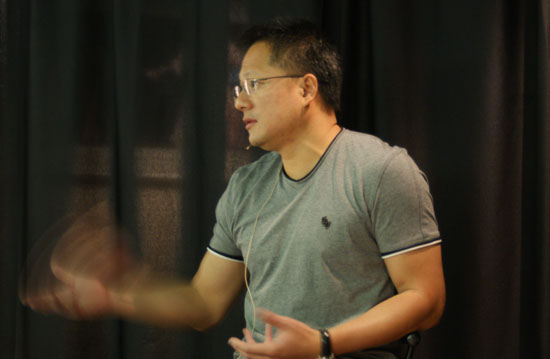 The Jen-Hsun keynote on the other hand just wasn't very good in my opinion - there were a couple of good demos, the Photosynth and multi-touch demos were great but the rest was a total letdown. Thankfully, Jen-Hsun more than made up for it with the 30 minutes he spent with press after the keynote.
Why NVISION?
Jen-Hsun started off the Q&A session by answering why he wanted to create NVISION. I'm not sure I totally get the point of this show, everyone at NVIDIA tells me that it's not intended for people like us, it's more consumer focused. But then at the keynotes (which are totally consumer focused), the presenters are always talking about the audience being developers and scientists...which it totally isn't.
Honestly, and I know NVIDIA would hate to hear this, the format needs to be more like IDF. Intel manages to have the perfect balance of interesting technology and demos that the uninformed could be entertained/informed by.
Jen-Hsun and the rest of NVIDIA view this as a convention for the Visual Computing Market that doesn't have a show, the question is - does it need a show? And at this point I'm not sure I know the answer. But through a few meetings I was able to get some good information.