Introduction
Silverstone is a familiar name in our PSU testing facilities, and today we will be looking at the fifth power supply from Silverstone. It is also the second fanless power supply we've reviewed, following the Amacrox Calmer 560. Silverstone has left a consistently good impression with high quality and very good results, and the 700W Decathlon was especially impressive with its near-silent performance. Obviously, we're going to get true silence today since the Nightjar doesn't have a fan. The cooling is done with high efficiency large heatsink sitting on top of the power supply. The market for these power supplies is somewhat limited, since airflow is vital to modern PC systems. Using a power supply that doesn't contribute at all to system cooling - and in fact can do the exact opposite - typically causes issues with temperatures.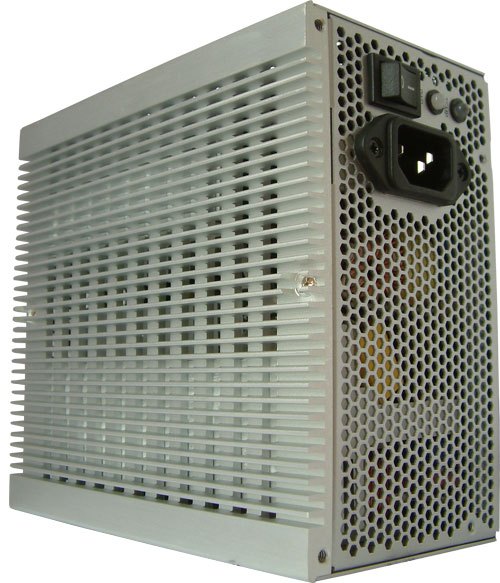 To avoid more serious cooling problems, fanless power supplies are generally limited to lower power ratings, such as the 450W model we're reviewing today. This also makes sense considering any system with need for more power will have high-end graphics cards and processors that run noisy fans. The usefulness of a fanless power supply is thus very limited, or at best it's a way to reduce (but not fully eliminate) noise. The market where they make the most sense is for HTPCs. They need to run as quietly as possible since they are in the same room where you want to watch your favorite movies. They also don't need a ton of power (usually) since most of the components are relatively low power - all you need is a moderate CPU and a GPU with H.264 decoding support (which you can now get with certain IGPs). We already tested a fanless power supplies with a peak output of 560W, but 400W will be just fine for all but the most demanding HTPCs. (Ed: So Anand's monster with 20TB of storage or whatever doesn't qualify?)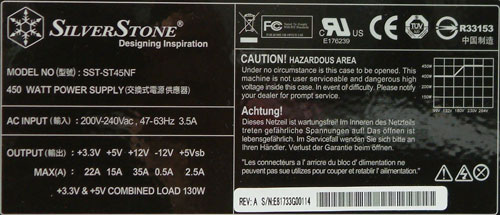 The label indicates a peak output of 450W, which as mentioned should be the maximum this sort of power supply needs to offer. We also find an intelligent setup within the lower voltage rails. The 3.3V and 5V rails are rated at only 22A for the 3.3V rail and 15A for the 5V rail. Together they can still supply 130W, which is sufficient for modern systems. The single 12V rail is rated at 35A, which makes us wonder if anyone cares about ATX safety regulations.