What Does This Thing Actually Do?
From a high level, Lucid's technology intercepts DirectX or OpenGL API calls, analyzes them, organizes them into distinct tasks, and based on the analysis combined with the historical performance of various cards handling of previous frames' workload, it evenly distributes the tasks across all the GPUs in the system.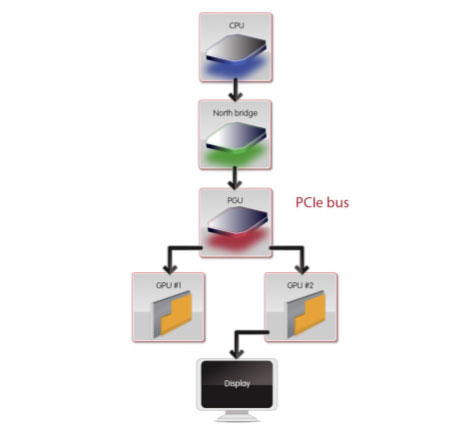 After the workload is distributed, the buffers are read back to the Hydra chip and composited before the final scene is sent to the proper graphics card for display. Looking a bit deeper, here is a block diagram of the process itself from Lucid's whitepaper.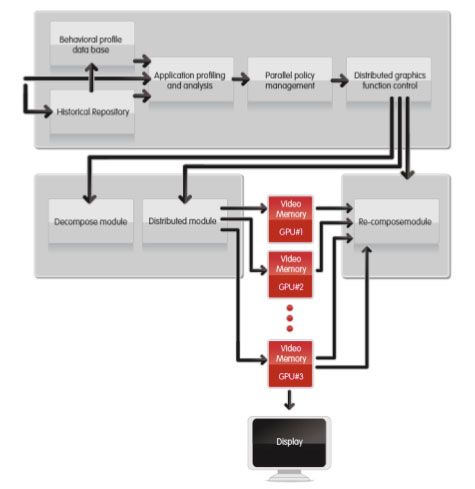 The current implementation can take x16 PCIe in and can switch it to either 2x x16 PCIe channels or up to 4x x16 PCIe channels. This gives it support for 1 to 4 cards depending on how the motherboard or graphics card handles things. They do have the flexibility to scale down to x8 in and 2x x8 out, making lower cost motherboards feasible as well. Future products may support more graphics cards and more PCIe lanes, but right now 4 is what makes sense. Lucid says the hardware can scale up to any number of cards with linear performance improvement.
Some of the implications of this process are that if any graphics card in the system has other work being done on it (say maybe physics or video or something), the load will be dynamically balanced and you'll still be able to squeeze as much juice out of all the hardware in your system as possible. Pretty cool huh? If it works as advertised that is.
The demo we saw behind closed doors with Lucid did show a video playing on one 9800 GT while the combination of it and one other 9800 GT worked together to run Crysis DX9 with the highest possible settings at 40-60 fps (in game) with a resolution of 1920x1200. Since I've not tested Crysis DX9 mode on 9800 GT I have no idea how good this is, but it at least sounds nice.
Since Lucid is analyzing the data, they can even do things like not draw hidden "tasks" (if an entire object is occluded, rather than send it to a graphics card, it just doesn't send it down). I asked about dependent texturing and shader modification of depth, and apparently they also build something like a dependency graph and if something modified affects something else they are able to adjust that on the fly as well.
In theory, tracking and adjusting to dependencies on the fly will completely avoid the issues that keep NVIDIA and AMD from running AFR in all games. And they even claim that this can help give you higher than linear scaling when using their hardware with more than one card.
We asked what the latency of their implementation is, and they said it is negligible. Of course, that's not a real answer, especially for guys like us who want to know the details so we can understand what's going on better. We don't just want to see the end result, we want to know how we get there. Playing Crysis didn't feel laggy, but there is no way this solution doesn't introduce processing time.
An explanation for this is the fact that the Hydra software can keep requesting and queuing up tasks beyond what graphics cards could do, so that the CPU is able to keep going and send more graphics API calls than it would normally. This seems like it would introduce more lag to us, but they assured us that the opposite is true. If the Hydra engine speeds things up over all, that's great. But it certainly takes some time to do its processing and we'd love to know what it is.