Looking at Nehalem
Let's start with this diagram: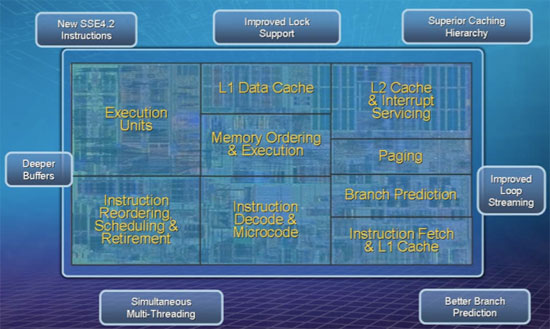 What we have above is a single Nehalem core, note that you won't actually be able to buy one of these as it doesn't include the memory controller, L3 cache and all of what Intel considers to be the un-core. The diagram is drawn correctly; the execution engine isn't even 1/3 of the core and nearly as much die area is dedicated to the out-of-order scheduling and retirement logic. Now you can understand why Atom is an in-order core.
A single Nehalem core isn't made up of a majority of cache. Approximately 1/3 of the core is L1/L2 cache, 1/3 is the out of order execution engine and the remaining 1/3 is decode, the branch prediction logic, memory ordering and paging. Obviously this is a bit deceiving since you're only looking at the core here, the un-core includes a massive 8MB L3 cache which changes the balance of things considerably:
Here we have a full quad-core Nehalem. What Intel calls the un-core is the L3 cache, the I/O, the memory controller logic and the Quick Path Interconnects (QPI). Desktop Nehalem processors will only have one QPI link (QPI 0) while server/workstation chips will have two (QPI 0 and QPI 1).
The Nehalem architecture is designed to be scalable and modular, you will see dual-core, quad-core and eight-core versions in 2009: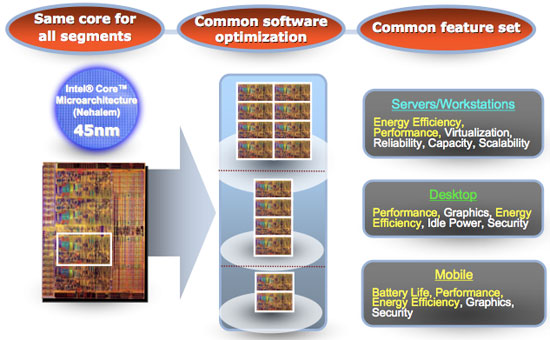 Some versions of Nehalem will also include a graphics core, it will be located in the "un-core" of Nehalem as you'll soon see. The graphics won't be Larrabee based, it will simply be a derivative of the current G45 architecture.