Turbo Mode
This last feature Intel actually introduced with mobile Penryn. The idea was that if you have a dual-core mobile Penryn only running a single threaded application, one core is completely idle, and the total chip TDP is lower than what it was designed for. Intel sought to use these conditions to actually increase the clock speed of the active core by a single speed bump. Unfortunately on mobile Penryn the performance benefit of Turbo mode just wasn't utilized, for one, Vista always bumps a single thread around on multiple cores so the idle core always alternated between the cores on a chip.
The other issue was that it's rare that you only had a single thread running on your machine, Vista would always spawn additional threads that would keep your mobile Penryn from entering Turbo mode.
Nehalem does things a little better. Not only can it enable Turbo mode if all cores are idle but it can also enable Turbo mode if only some of the cores are idle, or if all cores are active but not at full utilization.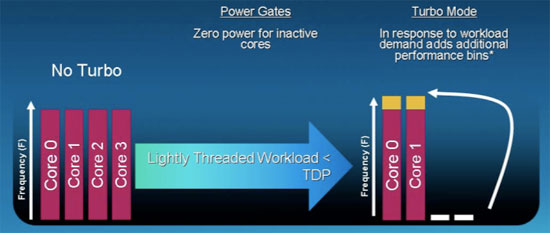 All Nehalem processors will at least be able to go up a single clock step (133MHz) in Turbo mode, even if all cores are active, just as long as the PCU detects that the TDP hasn't been exceeded. If the TDP levels are low enough, or the cores idle enough, Nehalem can actually increase clock speeds by more than one clock step. Right now it looks like the only bump you'll see is 266MHz, which is still quite mild, but Intel appears to have lofty goals for Turbo mode with Nehalem.
Future versions could increase the amount of "turbo" you could get out of Nehalem, and you can imagine situations where it would increase its clock speed more than just 266MHz. The idea is that Intel could actually capitalize on how overclockable its CPUs are and safely increase performance for those who aren't avid overclockers.
Don't worry though, Turbo mode can be disabled completely if you'd like.