SSD: The Intel Way
Everyone and their mom is making SSDs these days, where does Intel see room for differentiation? Intel's SSD design attempts to be different in the three key areas that determine SSD performance: Flash, Firmware and Controller.
The Flash memory used by Intel's SSD is Intel's own SLC and MLC NAND Flash, you can see the Intel logos on the sample below: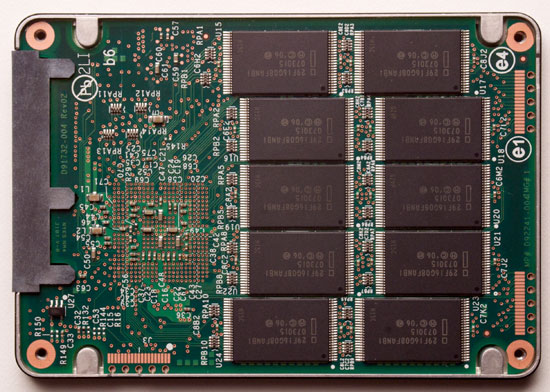 The Flash itself shouldn't really be any faster than Samsung or any competitor's Flash, but it's an indication of why Intel wants to compete in this market: it's another use for Intel silicon. The Flash is Intel's own 50nm NAND Flash and Intel plans on allocating the majority of its Flash production for its SSDs.
The Firmware and Flash-to-SATA controller are both made by Intel, whereas most SSD makers use off the shelf components and FPGAs for their designs. Intel claims that its expertise in microprocessor and platform design allows for much higher levels of performance out of its SSDs.  Intel also mentioned that despite recent quotes saying that Vista isn't optimized for SSD performance, that its controller/firmware design was done in such a way to minimize the need for OS-level optimizations.  Intel wanted to make sure that today, without any OS changes, that the impact of its SSDs was "good".
The advantage isn't manifested only in peak performance, but also small file read/write performance which can cause many SSDs to really bog down. While our own performance tests are under embargo for a little while, Intel did share this data with us: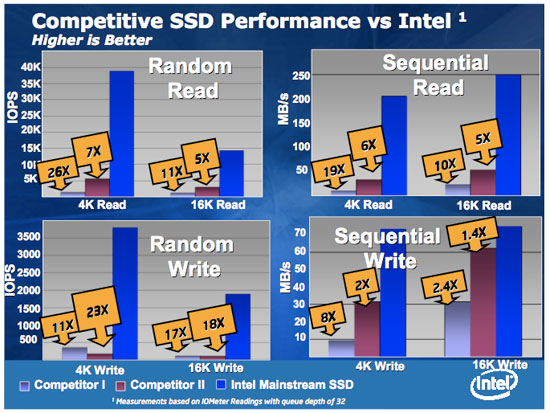 Competitor I is a 128GB MLC drive and Competitor II is a 64GB SLC drive. Intel is promising some significant performance advantages at 4KB and 16KB file sizes, which are quite common in normal OS usage. I've been working on a MLC SSD on the desktop article and have been noticing very annoying pauses during regular system usage; it's unclear whether or not the Intel SSDs will fix these issues but I'll be sure to find out.
Intel is promising better wear leveling and write efficiency with its SSDs: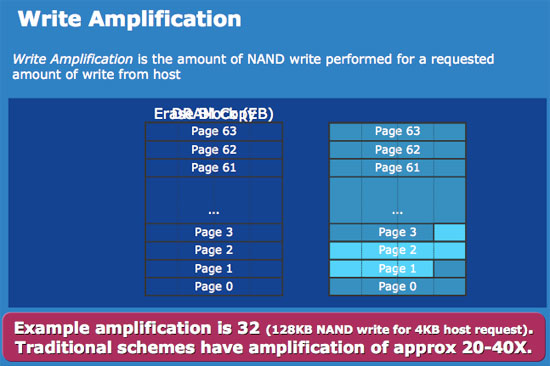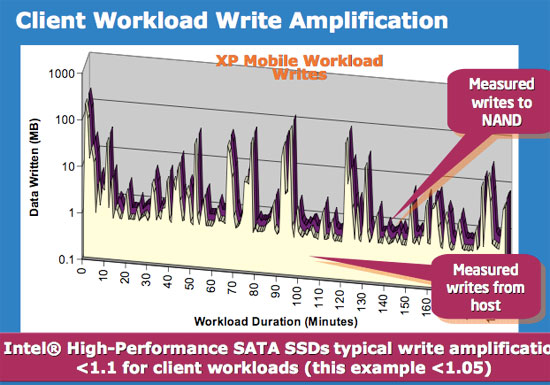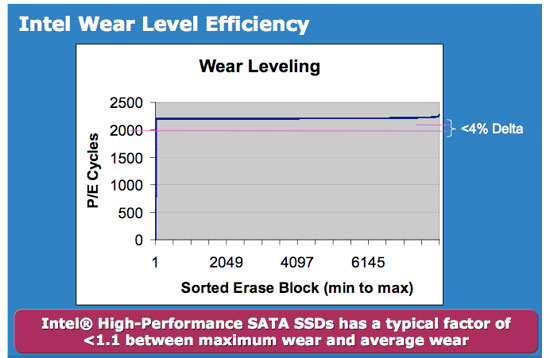 More efficient writes means that we should see better longevity out of these drives, but we don't really have good comparison data from other vendors so it's difficult to really judge what Intel is promising here.
We'll have full coverage of Intel's SSDs including our own review in the not too distant future.