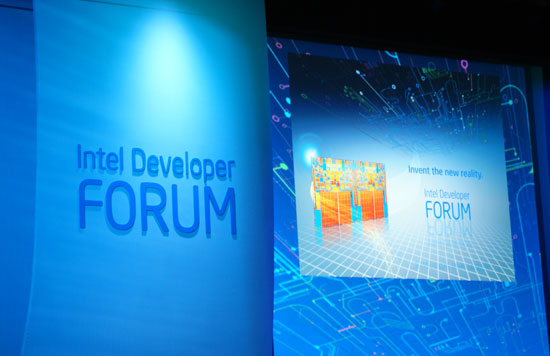 Keynote Theme
Key to improving our quality of life is education. IT can assist greatly in providing the tools and opportunities to improve our educational systems in both developed and emerging economies by bringing people together through connectivity. This connectivity assists in the partnership between businesses and governments across the globe, bringing people in urban and rural areas together to solve problems, and allowing limited resources to be utilized effectively.
Below you'll find live coverage, updated in real time, from the first keynote at IDF. Refresh for the latest updates. Note that this is the first keynote of the day, starring Craig Barrett so we don't expect tons of interesting disclosures here. Those keynotes will follow at 1PM PST/4PM EST.
All timestamps are in EDT, the newest posts are at the top.
12:14PM - Oh my ... The music is way too loud in this interlude after Barrett left the stage. I think my ears are bleeding.
12:13PM - 4 x $100K awards at spring IDF next year, for the best innovative idea in the fields of healthcare, education, economic development and the environment. Sustainable ideas, ideas using tech to really help people go forward. The money goes to the implementation of the idea; this isn't a get rich quick scheme. 20 points if an AnandTech reader wins :)
12:12PM - "small deeds done are better than great deeds planned"
12:10PM - Final guest of the keynote, a Brian McCarthy, 3rd place winner of Intel's Science Talent Search. This 18-year old kid is going off to college and won a $50K scholarship from Intel's competition thanks to his work on plastic solar cells - if you can make solar cells out of plastic, they will be cheaper to make and hopefully get more widespread use. (Side note: isn't the production of plastics particularly un-green?)
12:05AM - Barrett is moving on to the energy problem. Technology and education about technology can help reduce energy costs significantly if we put our resources into it.
11:58AM - Barrett is laying on the ground acting like he was injured for a demonstration on how to use technology to help people get their medical information to all the necessary people in an emergency. This involves a card that can notify your primary care physician and get your medical records to local medical facilities quickly. All you need to do is take a picture of the barcode on your card and email the picture to a server somewhere and it can figure out who you are and notify the necessary people automatically.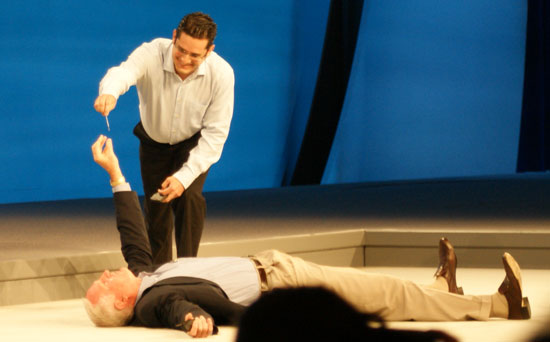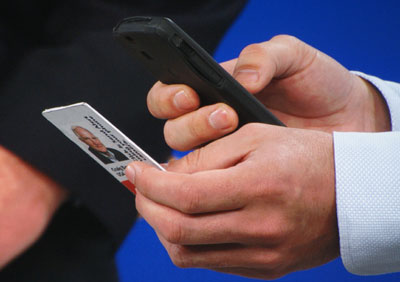 11:55AM - Barrett is lamenting the fact that Medicare and insurance won't cover the use of such basic and old (100+ year) technology as a telephone. Phone consults need to be covered before we move on to computers he says.
11:54AM - Now we're talking about the importance of healthcare. Barrett: our healthcare system is the mainframe computer of today. Today when you get sick, you go to the hospital. We need to fix this. You should be able to solve technology to solve some basic diagnosis problems.
11:50AM - Barrett is updating us on WiMAX. Developing countries love the idea, and people are gearing up to push it out. Intel is projecting 50 Million people covered by WiMAX by the end of the year and a billion by 2011.
11:46AM - Barrett is talking about Kiva, which sets up micro-loans ($50 to couple hundred dollar loans) to entrepreneurs from individuals. It allows people with even a little extra money to loan small amounts to low income inventors and entrepreneurs. Many of the people that borrow are women. One of Kiva's challenges was convincing people that low-income entrepreneurs could pay back these loans. They can. It's cool.
11:40AM - Dr. Johnny Chung Lee (the guy that did the Wii remote head tracking stuff) talked about building a whiteboard kind of interface with Wii remotes and some dry erase markers with the guts pulled out and infrared LEDs dropped in. It's a pretty cool $50 whiteboard.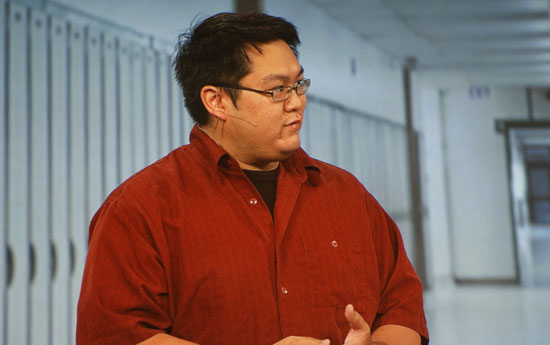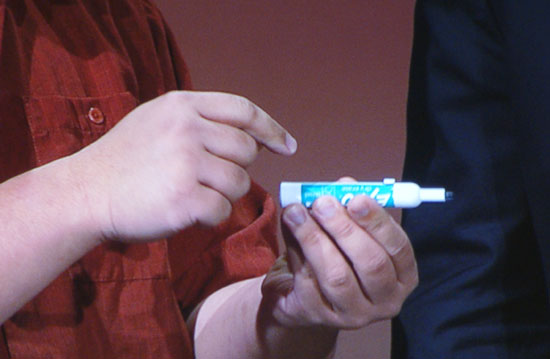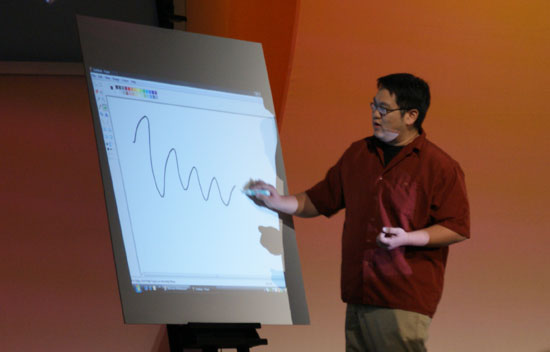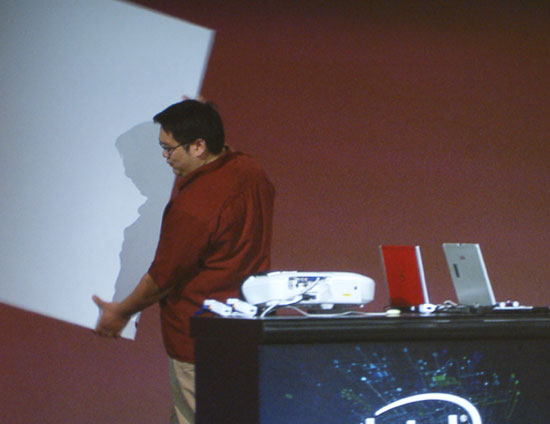 11:35AM - I just noticed that Barrett is standing in front of an image of a classroom and the video kind of makes it looks like he's standing in a school ... Cheap tricks :-)
11:34AM - "A good teacher is the best tool for a good education anywhere in the world."
11:33AM - The future is dependent on a competitive workforce, educational standards, and innovation. What is the right formula - smart people (education), smart ideas (R&D), plus the right environment for business to succeed. If you believe one of the keys is IT to meld all this together, then what is the key aspect for IT involvement, it's access to equipment, content, connectivity, providing local content for business, education, government, and others so they can work well together
11:32AM - Gave some valid criticism of the US government and our relative lack of focus on education and funding R&D/innovation. Craig is speaking from a position of knowledge having looked at the impact and adoption of technology in around 30 countries each year. Perhaps we should be listening?
11:31AM - Barrett is getting on his political high horse about our government not recognizing enough that investing in and supporting technology is key to our future.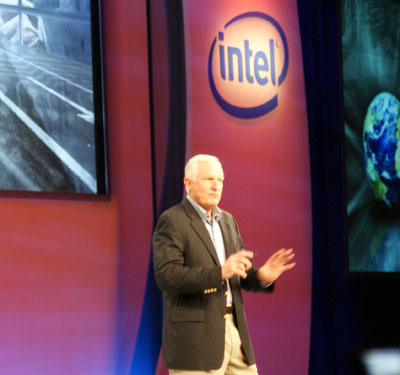 11:28AM - Barrett is talking about 10000+ processors in the first teraflop computer 11 years ago. Intel worked on this with Sandia back then. Now we have all that in a single chip, which is nice.
11:25AM - Yes, we've already hit the obligatory Moore's Law reference.
11:23AM - Barrett is on stage. Man, I haven't seen this guy at an IDF keynote in a while.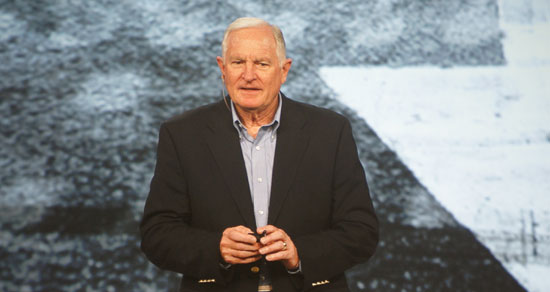 11:19AM - Pat is playing Where in the World is Craig Barrett. Barrett has been to around 60 countries in all continents except Antarctica. His goal is to spread technology across the world.
11:15AM - Pat Gelsinger is on stage, giving us an overview of this year's IDF. Gelsinger is going to talk about Digital Enterprise and Mobility this afternoon, as well as Dadi Perlmutter talking about Mobile later in the day.