The Application
Badaboom relies on its interface to be one of its biggest strengths, and admittedly it does look very good. On the left you have your sources: optical drive(s), a VIDEO_TS folder from a ripped DVD or a file. In the middle you've got a preview of the video itself and on the right you have your output formats with presets for the iPhone, iPod Touch, iPod Classic, Apple TV, Xbox 360 and PS3. Choose your source, choose your output and hit start - that's all you really need to do.
DVD support is a bit more elegant than your run of the mill video files. You can choose to transcode individual titles or chapters from the DVD, but do keep in mind that Badaboom won't perform any decryption for you - you'll have to break any security on your own.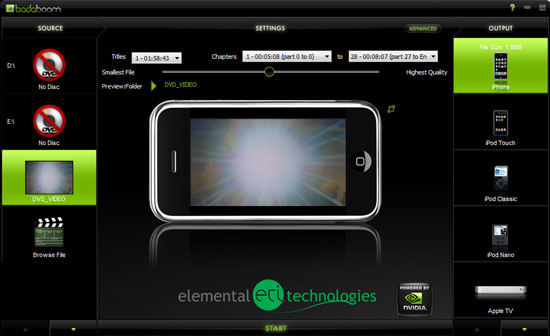 The standard version of Badaboom will let you use any of these presets but you can't adjust things like resolution, the pro version gives you an advanced button that let's you configure a bit more. The configurable options are limited to resolution, bitrate, audio, 3:2 detect and deinterlacing. You can't even specify the name or location of the output file, although thankfully you can cancel a transcode in the middle of it.
During a transcode you get a small preview of the video in the center of the application and an instantaneous frame rate as well as estimated time. There's no summary window after the transcode has completed indicating average frame rate, total completion time or other vitals about the process.
In a nutshell, that's the application - it transcodes things and doesn't let you adjust much. Which brings us to its limitations...