General Performance at 2560x1600
We've already established that in games with CrossFire support, the Radeon HD 4870 X2 is the grand poobah of gaming performance. Along with such a title comes a general requirement: if you're dropping over $500 on a graphics card on a somewhat regular basis, you had better have a good monitor - one of many 30" displays comes to mind. Without a monitor that can handle 2560x1600, especially with 2x 4870 X2 cards in CrossFire, all that hard earned money spent on graphics hardware is just wasted.
Since the target resolution here is 2560 x 1600, let's see how the 4870 X2 stacks up in our suite of games at this resolution: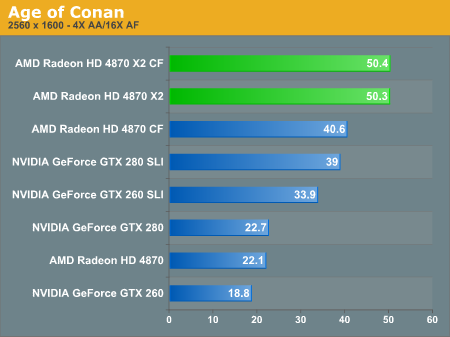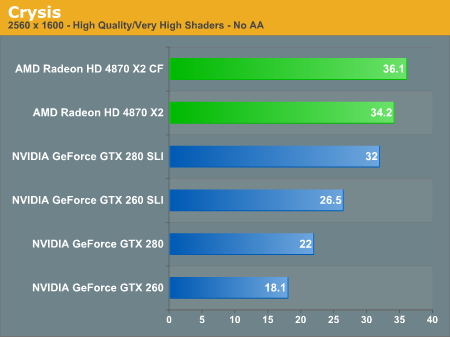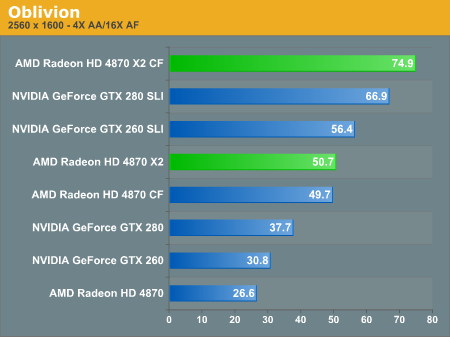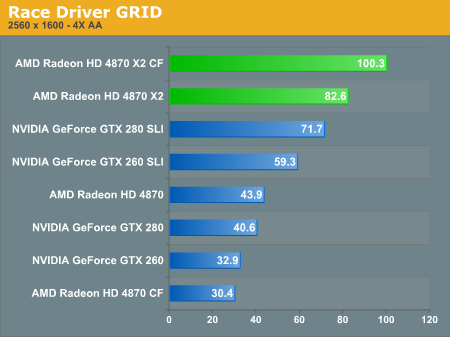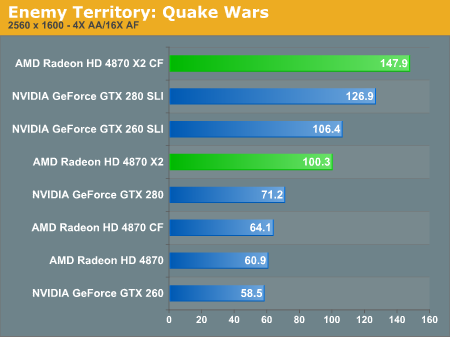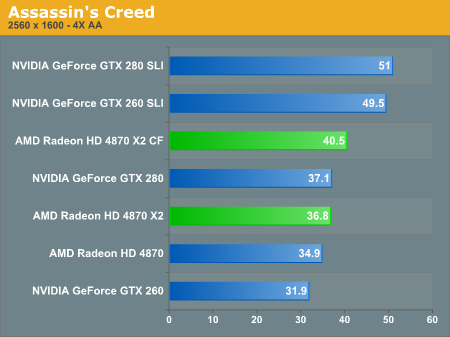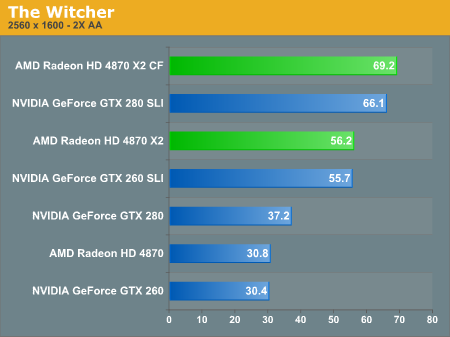 The 4870 X2 holds its own against its major competition from NVIDIA, the GTX 260 SLI, in 4 of our 7 benchmarks, while the 4870 X2 CrossFire leads the pack in all but one game (Assassin's Creed). It is always tough to pick the games we want to test, as the games we pick end up deciding what we think of performance. We try to pick games that are both interesting to the community and/or show interesting performance differences between hardware. In this case, what we have here is a pretty good picture of the general case: the 4870 X2 and GTX 260 SLI are pretty well matched.
Of course, the GTX 260 SLI option is two cards which requires an NVIDIA motherboard. This puts it at a bit of a disadvantage to a single card solution that is platform agnostic. And we also have the fact that at the target resolution of 4870 X2 CrossFire AMD does have the most powerful option that fits into two slots. These are very important factors for AMD, but as we've seen before 4-way solutions aren't the value option (you don't get the same return on your money as you might with other solutions even if you do get high performance).
Taking into account the price drops, we also see the single GPU arena looking very competitive with the GTX 260 and HD 4870 about on par. In these tests, the HD 4870 looks to have an advantage, but again we could add a few more benchmarks and see the GTX 260 do better. This is what we like to see: real competition. Of course, the tough question to answer here is whether or not the GTX 280 is worth 1.5x either the GTX 260 or the 4870.