Introduction
Many casual computer users might not be familiar with the name FSP Group (aka Fotron Source), but their power supplies are found in many PC systems from major system integrators. They come to you with bearing other names such as Zalman, OCZ, or be quiet!, but the actual products are produced by FSP. FSP is one of the largest manufacturers of power supplies in the world. I have been to their Taiwanese headquarters several times when I was living in Taiwan back in 2002. The large complex in Tao Yuan is a little outside of Taipei and houses research equipment most techies can only dream of using. The equipment includes an anechoic room and a setup to test electromagnetic interferences.
FSP sent us several of their units that we will be reviewing shortly, beginning today with the Epsilon 600W 80Plus power supply. FSP Group sells power supplies to many of the familiar names in the PSU market, and they also sell them direct under their own two brand names: FSP and Amacrox. We have already reviewed two Amacrox power supplies, but now we'll be looking at a couple FSPs models. The FSP products come with a blue exterior to separate them from other companies. As one of the largest quality PSU manufacturers, one can expect to find only the best components in their own products.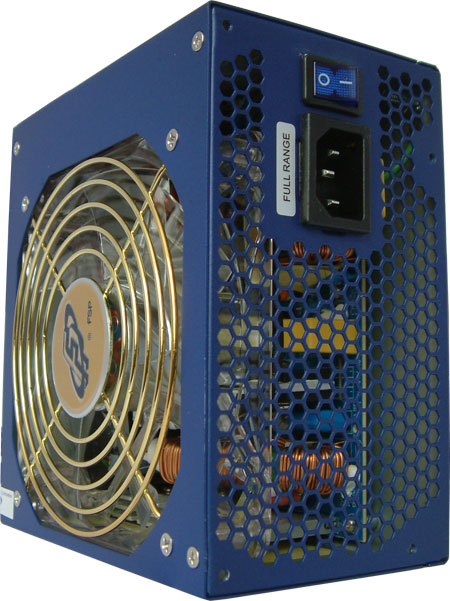 This power supply design first became famous about two years ago, when FSP partnered with a large number of companies and released numerous slightly tweaked models all based off the same basic topology. Today FSP's market share has decreased, with other ODM competitors like Channel Well Technology (CWT) getting the design wins. We hope that FSP is working on some newer models, as competition is always welcome. be quiet! released a very nice FSP-built model last year that delivered efficiency of up to 88%, a design we haven't seen elsewhere, so they certainly have the capacity to produce some very good PSUs. We saw the same topology at the CES booth earlier this year, but it wasn't at their CeBIT booth. We can only guess what happened to that design - perhaps it was simply too expensive to be practical - but it never really made it to the mass production stage.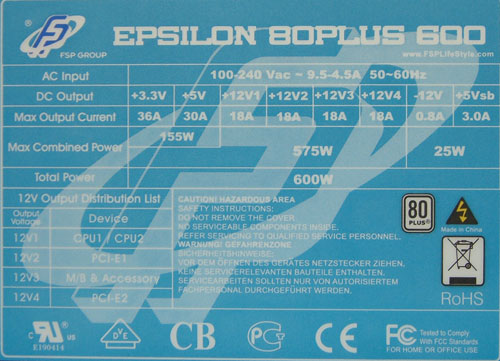 The Epsilon comes with four 18A 12V rails, which is a good start. The 3.3V rail delivers up to 36A and the 5V rail 30A. The combined power for both the smaller rails shows is 155W, while the combined power for the 12V rails remains unknown since FSP shows 575W together with the maximum of 155W for the both smaller rails. We could hazard a guess of 420W, but that's more of a worst-case scenario. Worth noting is that the Epsilon 80Plus 600W is not the same as the Epsilon FX600-GLN, which many mistakenly assume. The 80Plus certification immediately indicates that this version is a more energy efficiency revision, although it seems to only be available in Europe right now.