Efficiency and PFC
With the 80Plus Silver badge, we expect very high efficiency results. Just to clarify, an 80Plus certification requires that a power supply reach 80% efficiency at loads from 20% to 100%. 80Plus Bronze requires at least 82% efficiency at 20% load, 85% efficiency at 50% load, and 82% efficiency at 100% load. 80Plus Silver bumps the requirements up to 85%/88%/85% for the same 20%/50%/100% loads. In short, the Cooler Master 900W UCP had better be able to reach 88% efficiency.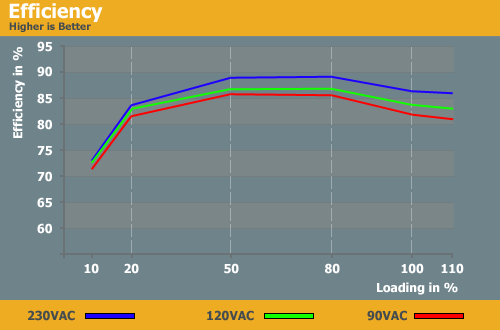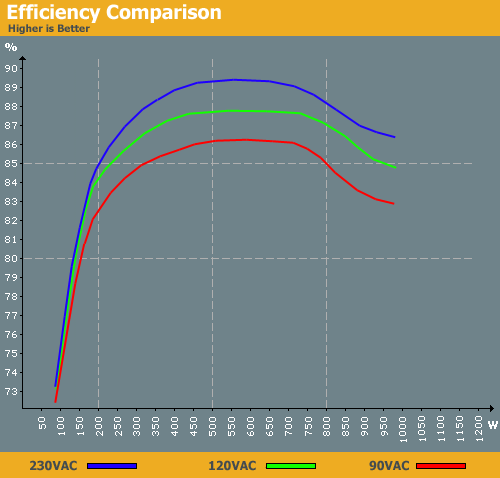 The results meet the 80Plus Silver requirements, actually reaching a maximum of 89% efficiency, but it's important to note that this is only possible on 230VAC. The 80Plus standard doesn't specifically state whether the efficiency should be measured on 230VAC or 115VAC, so we will have to give Cooler Master the benefit of the doubt. 115VAC users "only" get 87% efficiency. [Ed: Boohoo.] Regardless of how you look at it, this is the highest efficiency we have measured in a retail power supply to date.
Before you get too carried away with the high efficiency, however, we need to rain on your parade a bit. The 80Plus Silver badge means that most users will get at least 85% efficiency, but even 20% load represents a power output of 180W, which for an idle system represents a significant amount of high-end hardware. Optimal efficiency starts at around 350W, which pretty much means you will need a quad-core system with dual graphics cards as a reasonable minimum (and probably a bit of overclocking) in order to get full efficiency from this sort of power supply. But then you hopefully already realized this when you saw the 900W rating.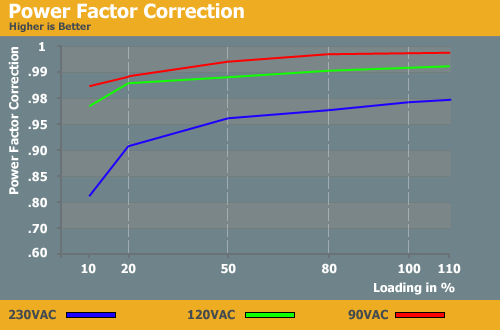 Another part of the 80Plus certification is that the power supply needs to reach at least .9 PFC, but it only needs to achieve this at 100% load. Needless to say, that's not a very difficult requirement to meet, and this PSU has a lower PFC than we have seen with most recent power supplies. PFC goes up with lower input voltages, but most power supplies easily break .99 PFC at lower loads with 115VAC. That said, the difference between .98 and .99 PFC obviously isn't very great, so this isn't something that should seriously concern potential buyers. The result could have been better, but it's not something to lose sleep over.