Packaging and Appearance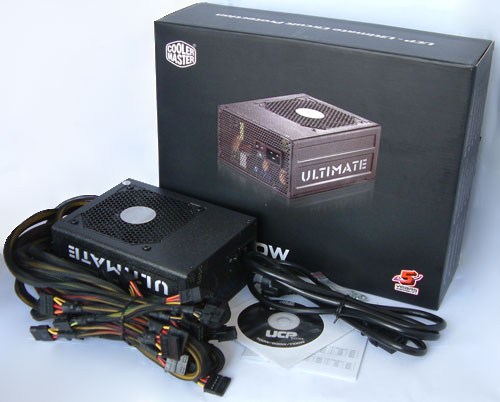 The power supply comes in a somewhat understated black box, and unlike some competitors it doesn't contain all sorts of extraneous details on the various sides. The front of the box only shows a picture of the power supply and its name, while the back is a little more informative and includes the specifications and an outline of the major features. Inside the package, there's a plastic cover providing some small protection for the power supply (and keeping various bits from falling out during shipping). You also get a manual on a CD (highly useful for assembling a system, especially if you're building your first system!), power cord, screws, and a card detailing the warranty and discussing the proper disposal of electronic components.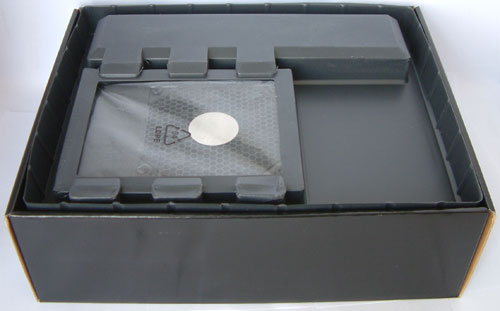 Cooler Master certainly created a unique looking product, as the power supply is coated with a rough texture and it has rounded edges. It seems they are going after the "heavy-duty" look, and the surface looks somewhat like the lining of a truck bed. The fan grille has the same coating and includes the obligatory Cooler Master logo. The grille is connected using hex screws, either because they simply look cleaner or to try and keep prying hands out of the internals. Regular Phillips screws would have done just as well.
The back of the unit is perforated by many small holes in order to provide proper ventilation. Cooler Master uses a large specialized power connector for the plug, typical of their high-end units. There's also a power switch and an LED that glows white when the PSU is connected to the power grid. Besides the ventilation holes at the rear of the power supply, the only other place for air to enter or exit the casing is through the fan grille. This should help to direct airflow, provide optimal cooling, and avoid creating extra turbulence.