One of the criteria that every camera review site uses in evaluating the quality of a new camera is image noise. As ISO increases noise normally increases as the sensor capture capabilities (or lack thereof) and boost processing electronics take their toll on the quality of the captured image.
There are many things that affect that noise, not the least of which is the size of the light-gathering pixels that capture the image. As discussed in detail in The Digital Sensor and The Digital Sensor Part 2, the size of the photosite is the reason the tiny sensors used in pocket point and shoot cameras are so limited in capabilities compared to the Digital SLR, which is where the major growth in the photographic market is now occurring.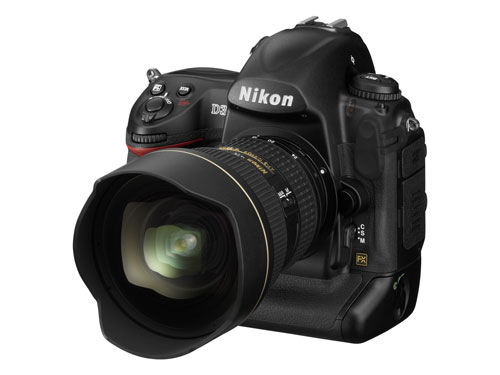 The impact of photosite size is ably demonstrated in one of today's hottest DSLR cameras - the Nikon D3. This $5000 camera is a 12.2MP full-frame camera. Since it can also handle Nikon DX crop lenses and create a 5MP image at the common APS-C size seen in most of today's DSLR cameras, it is easy to understand that this 12MP full-frame has the same photosite size as a 5MP crop-sensor DSLR.
As discussed in detail in the Digital Sensor articles, the sensor is an analog light-gathering device. It is not a simple digital on-or-off digital device where size really matters very little. In a camera sensor the light gathering is analog and the larger the light gathering area, all else being equal, the better the light gathering ability.
Compared to today's 10 to 14.6MP sensors in top DSLR cameras with a 14x24 sensor, the Nikon D3 has huge photosites in its 24x36mm 12MP sensor. Combined with CMOS technology and evolved electronics the Nikon D3 has a normal ISO range to ISO 6400. As a comparison, the Canon XSI top sensitivity is 1600 and most prosumer models extend to ISO 3200.
As you can see in this dramatic ISO 6400 hockey shot produced by Dave Black for Nikon, D3 images at ISO 6400 are extremely low noise. Even more impressive is the ability to still capture usable images at ISO 12800 and all the way to ISO 25600 with much increased noise in a pinch.
Clearly noise is related to the size of pixels in analog sensors, but that is only part of the story. Often the manufacturer of the camera has made decisions, either informed or due to lack of expertise, to not process for noise at high ISO. Cameras that appear to exhibit much increased noise at high ISOs are sometimes capable of much lower noise. The poor noise performance is sometimes the result of decisions by the camera maker in how files will be converted to RAW or JPEG files in camera or in post-processing software.