Final Words-
Actually, these are not our final words as we have significantly more testing to complete on newly arriving boards with the soon to be introduced SB750 South Bridge. So where do we start?
Let's see, AMD has introduced a new South Bridge that is certainly an upgrade to the long in the tooth SB600 and also addresses one feature flaw in the SB700. That feature flaw is RAID 5 and while we are not proponents of host controller RAID 5, early indications is that AMD's implementation is no worse than NVIDIA's or Intel's current solutions. Marketing can check that one off the feature list now. However, we are still disappointed in the PCIe 1.1 interface to the 790FX/780G and upcoming new NB chipsets.
AMD is probably correct that there is plenty of bandwidth available with the current solution, but we cannot help but wonder why they did not include a PCIe 2.0 interface given the amount of time this chipset has been under development. Also, the lack of a native LAN interface is perplexing, not from a performance viewpoint, but the fact that additional costs are incurred by the motherboard companies and ultimately users for the additional interface components. For a company that is specializing on reduced cost and highly integrated solutions, this one is perplexing. However, in the end, the performance of the SB750 rivals that of its competitors at this time, or comes close enough in current testing that we can overlook our. Speaking of performance, early numbers (just received final chipset drivers and late beta RAID drivers) indicate a slight improvement over SB700 but well within the error of margin in our storage test suite.
Of course, the big news is the new low level interface between the SB750 and the Phenom CPU. Advanced Clock Calibration is its name and overclocking is its game (a bad throwback to days gone by). In all seriousness, ACC works and depending on just how "substandard" your Phenom might be at overclocking, it works extremely well. We have several theories about what this interface does and how AMD is doing it, but without explicit information or conformation from AMD we will have to continue theorizing about it. Our testing continues for the new product launches next week, but we were satisfied enough with the current numbers to publish early results. What we are not satisfied with is the lack of information from AMD, but that is their prerogative.
Our test results confirm AMD's statements that a 100MHz to 300MHz improvement in Phenom core speeds are attainable with ACC. This is not a guarantee and some processors will require significantly more tuning than others to get up to speed, but overall our experiences to date with several processors are very positive. Our otherwise clock challenged 9850BE suddenly started acting like a Tour de France rider on steroids with ACC enabled. Our clock improvements ranged from 200MHz to 410MHz depending upon our settings. What was particularly interesting is the fact that our largest improvements occurred when we tried raising HT ref clock and increasing the multiplier at the same time.
Our 9850BE responded especially well in this case with ACC enabled, so much so that we wondered if maybe our original settings were completely off. They were not as it turns out after a few hundred reboots between setting changes on several boards. We also found it was much easier to sustain a high NB speed with ACC enabled and this lead to several significant improvements in memory performance. Finally, we found leaving the program on auto settings provided the quickest and easiest overclock improvements, at least with our processors. Utilizing AOD was much simpler than making constant changes in the BIOS, but in the end, neither one offered an improvement over the other one in performance.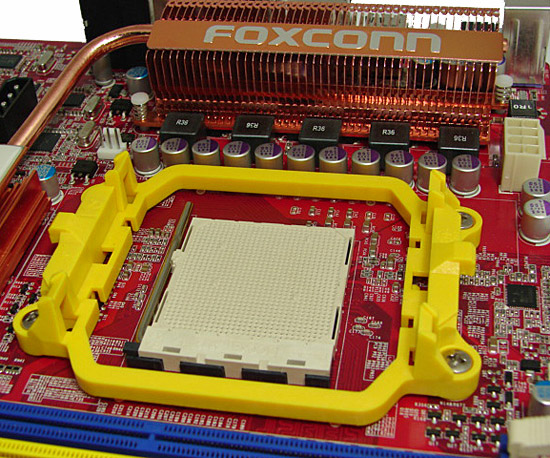 We purchased a retail processor that seems to have been blessed by the processor Pope before it left the FAB and arrived in the office. As such, we only recognized a 100MHz improvement in core speed with ACC enabled on the Foxconn board. We were able to tune the SB600 equipped ASUS board to the point where the difference was only 50MHz at the top end. What we did not report on today since we are still verifying the test results, is that ACC did make a significant difference in NB speed with this processor in the midrange clocks from 3GHz to 3.2GHz with NB speeds ranging from 2520 to 2600 at these speeds. Compared to the Foxconn board with ACC turned off or the ASUS board, our maximum NB speeds hovered around 2200 to 2400 with slightly more CPU and NB Vid required.
AMD informed us that we should be able to run lower voltages and improved HT ref clock speeds with the Phenoms. We are currently testing these claims but at this point we do see lower voltages being required at a variety of clock speeds but have not noticed any true improvements in HT ref clocks, yet. As always, your mileage will vary depending upon your CPU and motherboard, but we believe most users will see some improvement, maybe not enough to spend additional money on upgrading the motherboard. That said, we feel like this technology will benefit the enthusiast and feel like it is probably a safe purchase at this time for those users who have to have the latest and greatest technology.
The complaints about the Phenom processor not clocking as well under Vista 64 when compared to Vista 32 are for the most part true. We had varying degrees of separation in the final core speed numbers depending upon settings, enough so that we would have to recommend XP Pro or Vista 32 over their 64-bit counterparts for those who need to squeeze the last ounce of performance from their systems. Once again, the differences varied greatly depending on the motherboard, processor, BIOS settings and if ACC was enabled or not. While the final system settings under Vista 64 were acceptable to us, we know for many this will not be the case. We hope to have some answers soon from AMD.
In the end, we know after a good 60 hours of testing, over 600 different settings, 400+ screen shots, and countless reboots that Advanced Clock Calibration works, yet we do not know anymore about the inner-workings of ACC at this point than SpongeBob SquarePants.