The web has been alive with rumors of an upcoming update to AMD's 7-series chipsets that will somehow unlock the true overclocking potential of its Phenom processors. The rumor goes something like this: an updated South Bridge (SB750) will improve communication with Phenom, removing a previous bottleneck and improving the maximum overclock possible. We can't begin to explain the many issues with the various rumors, but we have to allow that somewhere buried deep in these rumors there is a morsel of truth.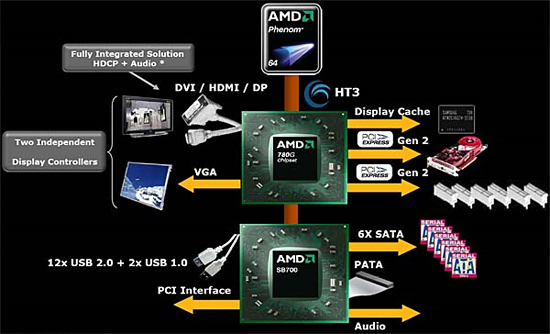 The AMD 780G chipset, the South Bridge is the chip, er, at the south end of the image. USB, SATA and Audio all stem off of this chip.
The South Bridge of a chipset is typically responsible for I/O operations. The non-critical PCIe lanes come off of this chip, as do the SATA and USB ports. Audio codecs, networking interfaces and virtually all other components are also run off the South Bridge. The North Bridge on the other hand talks directly to the CPU and connects it to much higher speed elements of the system; things like graphics cards and main memory all stem from the typical North Bridge design. The point of this explanation being that if anything were going to improve overclocking performance, we would assume it would be the North Bridge, not the SB. However, AMD has taken a different approach from traditional chipset engineering as we will soon see.
We've been waiting for a motherboard with AMD's SB750 South Bridge ever since we started hearing these rumors, and we finally received one: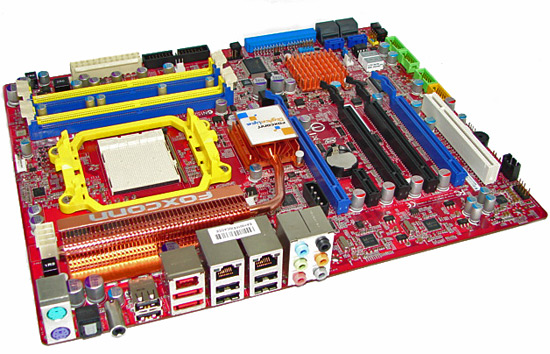 Foxconn sent us their new A79A-S motherboard that is part of their Digital Life series of products. This motherboard was not designed to be an extreme overclocker, but instead a feature rich platform that offers the capability to overclock when required. In testing to date, the board has actually gained a reputation of being an excellent overclocker along with a full featured BIOS. While the BIOS options are not as extensive as the top end 790FX products from ASUS or DFI, there are more than enough options to ensure successful overclocking for the vast majority of users. Foxconn is still developing the BIOS and we have sent our feedback on a few areas we would like to see improved, but overall, this board gets a recommendation from us.
We will take an additional look at the board during the official 790FX/SB750 launch activities next week but here are a few major features. The A79A-S includes four x16 PCIe 2.0 slots (dual x16 or quad x8 electrical), one PCIe x1 and one PCI slots, six native SATA II ports featuring RAID 0, 1, 5, or 10 support, two dual e-SATA ports, dual Gigabit LAN ports, Realtek ALC888 HD audio featuring DTS Connect and Dolby Digital Live support, 12 USB 2.0 connections, dual IEEE-1394a connections, LED Debug display, and on/Off/CMOS buttons.
Let's take a look at how all of this works, at least what we know works.