New Wireless Adapters
In order to be able to use the Centrino 2 brand, much like the original Centrino brand, an OEM must buy three components from Intel: 1) a Centrino 2 CPU, 2) a Centrino 2 chipset and a Centrino 2 WiFi adapter.
Intel used to only offer a single WiFi adapter, in the last version of Centrino that was the WiFi Link 4965AGN. This particular WiFi adapter featured support for 2 transmit antennas and 3 receive antennas, and was capable of sending up to two simultaneous data streams. With Centrino 2, OEMs have two options: the WiFi Link 5100 or 5300. The specs are below:
| | | | |
| --- | --- | --- | --- |
| | Intel WiFi Link 5300 | Intel WiFi Link 5100 | Intel WiFi Link 4965 |
| Transmit Antennas | 3 | 1 | 2 |
| Receive Antennas | 3 | 2 | 3 |
| Number of Concurrent Spatial Streams | 3 | 2 | 2 |
| Price (1000 units) | $29 | $19 | $29 |
The new WiFi Link 5100 supports the same number of spatial streams as the 4965 that's available in current Centrino notebooks, meaning that it can receive two streams of data concurrently, or transmit one stream and receive another at the same time. The third antenna in the 4965 is simply used to boost range, so it is possible that systems using the 5100 will have worse WiFi range than existing Centrino notebooks. Transmit performance can also be greater on systems equipped with the WiFi Link 4965, but the WiFi Link 5100 is $10 cheaper, which means we'll probably see it exclusively in cheaper notebooks.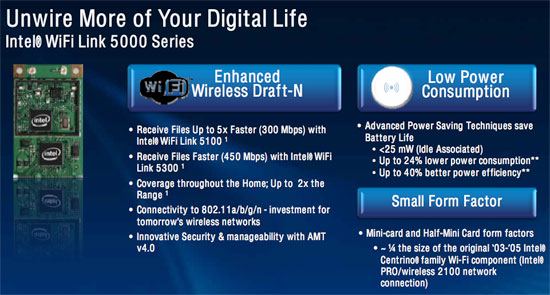 The WiFi Link 5300 is particularly interesting as it not only supports more transmit antennas than the old 4965, but it also supports more concurrent spatial streams. Range and performance should both be improved with a properly implemented WiFi Link 5300, unfortunately we weren't able to test this as our test system on shipped with a 5100.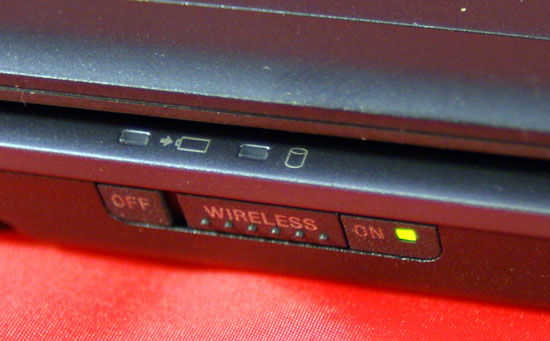 In our tests, transmit performance between the 5100 and the older 4965 were identical, but receive performance was significantly worse. We suspect that this was more a problem with the storage setup on our test Centrino 2 notebook, disk read performance was great, write performance just wasn't. But our concern was transmit performance, and our initial tests show that the 5100 should at least offer the same performance as the older 4965 but at a lower price.
We're expecting the nicer notebooks to move to the 5300, which should hopefully improve performance beyond all previous Centrino wireless solutions.
Later this year Intel will also reveal WiMAX versions of these network controllers, but they weren't ready in time for today's launch.