Race Driver GRID Performance
This is by far the most interesting test we have numbers for today.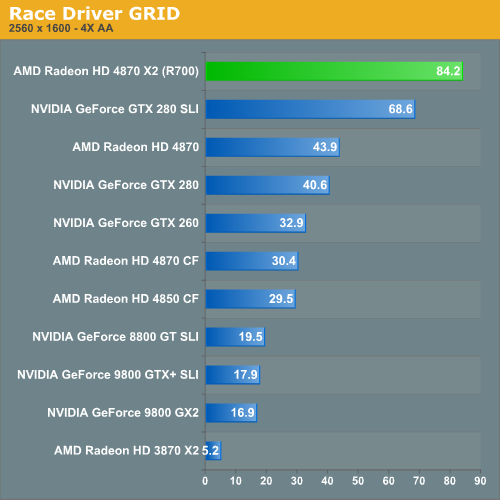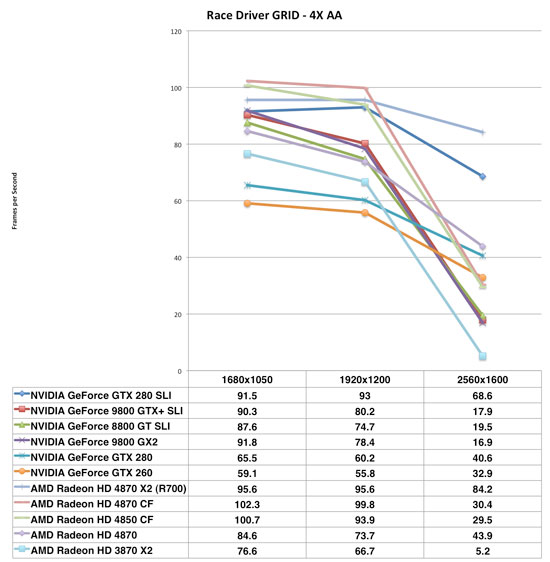 Click to Enlarge
Here we see at 2560x1600, where all of our multi-GPU solutions struggled to get through the menus and into the game, our 4870 X2 shows a performance increase that illustrates good scaling. It is likely that the extra 512MB of RAM available to each GPU has significantly impacted perforamnce since we are testing with all the options cranked up and 4xAA. It may be possible that the R700 hardware offers tangible advantages over AMD's previous method of performing CrossFire, but we can't know if this could be the case with the memory difference being such a likely culprit here.
It does make sense, on a high end part, to target an audience that will be pushing memory limits as far as possible. While gamers who want a single 4870 might not want to run at 2560x1600, it really doens't make much sense right now to go with a hugely expensive card unless you want that kind of resolution. This does add an advantage for R700 over two card crossfire at the moment (which may or may not go away after the introduction of 1GB 4870 cards).
Beyond that, we do note that in addition to our other added game, GRID shows a clear advantage over GT200 for AMD's latest generation.