Overclocking or Overcooking?
We had some interesting experiences during our overclock testing. Let's just say in the motherboard section of the labs that a halon fire extinguisher is now a standard item on the test bench. Call us unlucky, abusive, or having just dumb luck, but our results these past few weeks when overclocking IGP setups has not been good. In fact, it has been downright terrible as of this week. Editors other than those who normally test motherboards had the opportunity to experience the joy of random resets and failures. After reporting extensively on the failures we experienced when using 125W TDP processors on the first release of 780G IGP boards, we thought the worse was over when the manufacturers responded with beefed up designs, BIOS updates, or officially acknowledging that certain boards were just not capable of handling the 125W TDP processors. In fact, we had not experienced any real problems with the replacement boards as we finally finished testing for the IGP roundup and looked forward to new boards featuring 140W TDP capabilities later this summer.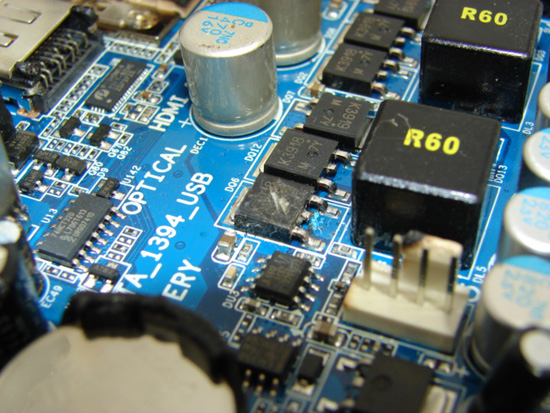 This 780G died while trying to overclock the Phenom X4 9350e. There's a twinge of burnt plastic on the fan header and HDMI port as well as the dead MOSFET itself.
We are still investigating, but the constant stress of 24/7 overclocking along with us trying to dial in that perfect group of settings which invariably means we push the board beyond its boundaries probably lead to our failures. While we were extremely upset for a variety of reasons (valid ones at that) when our first failures happened several weeks ago, today we are a bit amused with it actually. You see, it is not every week when you can go through five boards in less than 48 hours while trying to make an article deadline. We know three of the boards played pop goes the MOSFET as the pictures indicate, the other two died of natural causes that cannot be explained right now. In fact, it was a mix of chipsets this time from various manufacturers. Maybe the perfect storm hit us at a very inopportune time, but one lesson we have learned is that when testing overclocks in a fully loaded uATX case, it is not easy to get the marshmallows out and in place when the flames arrive.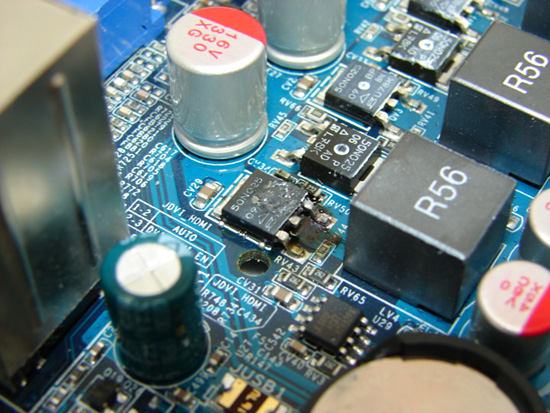 This 780G also faced an untimely death, although the damage was contained to just the MOSFET. Either way, the board is dead.
In all seriousness, the cooling of the MOSFET/PWM area is critical when utilizing a high watt TDP processor or when overclocking a midrange Phenom CPU on these boards. It does not matter if it is a NVIDIA or AMD chipset as we have had both fail (some more spectacularly than others). We heavily suggest refraining from overclocking these processors on current IGP products unless you properly cool the MOSFET/PWM area or just do not overclock at all. While we lost several boards during the completion of this article, we would like to add that several others have not experienced a single problem to date while overclocking on an open test bench or in our test case with plenty of airflow across the board. In our opinion, it comes down to solid component choices on the board and maximizing airflow to get the most out of these boards when overclocking. In addition, none of the ATX boards based on the 790FX, 780a, or 750a has failed us while being asked to overclock at significantly higher voltages in most cases. That said, whether through BIOS immaturity or design, we did not have the best of luck with the 9950BE on the full size boards.