Making Your Own 9350e
One of the most interesting aspects of testing the new 9350e was figuring out if the new 65W TDP rating held any true advantages over the existing 95W TDP Phenom X4 product line. Does the 9350e hold an advantage in power consumption? It depends on how you look at the situation. Yes, compared to the 9550 X4 the 9350e X4 holds a 8% advantage at idle, 7% advantage in H.264 playback, and 13% advantage in gaming. Sounds impressive and certainly makes for good marketing materials, especially when describing the "Green" benefits of this new processor.
| | | | |
| --- | --- | --- | --- |
| | Idle | H.264 Playback | Company of Heroes |
| AMD Phenom X4 9550 | 72.2W | 88.1W | 102.8W |
| AMD Phenom X4 9350e | 66.8W | 81.8W | 89.2W |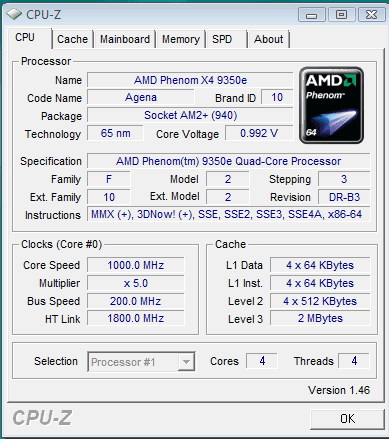 Click to Enlarge
However, let's take a look at the other side of the coin. First off, those benefits come at the expense of 200MHz in processor speed or a 10% lower core clock setting with an 11% increase in processor cost. Admittly, on our IGP platforms, this decrease in core clock speed is not noticeable in gaming as we are GPU limited for the most part. In video/audio encoding operations and general office applications the speed decrease is not apparent in day to day operations. The increase in cost could be excused over time based on theoritical power savings. That brings us to our Mr. Science experiment of the day. What if we could have our cake and eat it too, or in simple terms can we keep the 200MHz speed increase afforded by the 9550 while retaining the power savings of the 9350e at a 11% cost savings? Today is our lucky day as it is quite easy to accomplish this task, well almost.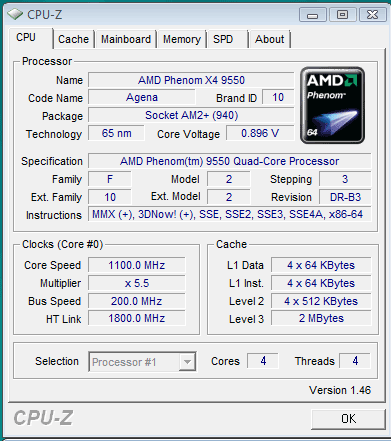 Click to Enlarge
Our first task was to compare the 9350e to the 9550 at stock settings. As mentioned above, the power consumption savings were measurable and significant in some areas. We then set our 9550 to mimic the 9350e at the standard 2.0GHz (10x200) setting. Our actual voltage of .896V on the 9550 is slightly lower than the .992V reported by the 9350e. However, the idle wattage is .6W higher. A reading that was consistent through hours of testing on various boards, so whether it is in the processor or CnQ settings, the 9350e does hold the slightest of advantages. This advantage disappears in our H.264 and gaming tests where the "9550e" holds a minimum advantage. So, on a clock for clock basis, the two CPUs are almost identical in power consumption and offline benchmarking showed no differences in performance. In other words, a B3 Phenom is a B3 Phenom no matter how you designate the part number.
| | | | |
| --- | --- | --- | --- |
| | Idle | H.264 Playback | Company of Heroes |
| AMD Phenom X4 9550 | 72.2W | 88.1W | 102.8W |
| AMD Phenom X4 9550 @ 2.2GHz/0.944V | 68.7W | 82.9W | 89.7W |
| AMD Phenom X4 9550 @ 2.0GHz/0.896V | 67.4W | 81.4W | 88.7W |
| AMD Phenom X4 9350e | 66.8W | 81.8W | 89.2W |
In our second test, we decided to see how low we could set the voltage on the 9550 and retain the native 2.2GHz clock speed (11x200). We set the voltage to 1.125V in the BIOS that resulted in a operating value of .944V with CnQ enabled. This setting allowed us to complete our entire benchmark test suite (PC Vantage, games, audio/video apps, Prime95, etc.) without issue. The idle number is 2% higher, H.264 playback is up 1% and gaming is increased less than a half percent. In other words, we can experience a 10% improvement in clock speeds with a 10% decrease in cost while retaining almost identical power consumption numbers. Every CPU will be different, some better, some worse, but overall we do not see a compelling reason for purchasing the 9350e if you have the time/knowledge to spend a few minutes in the BIOS and running a couple of stability tests.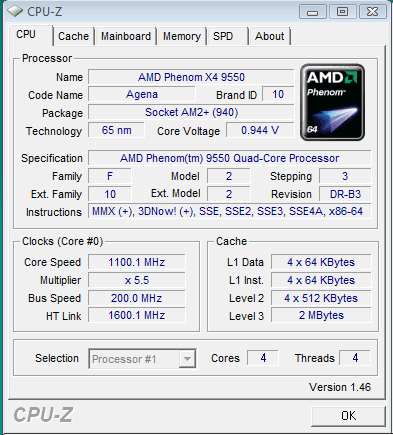 Click to Enlarge
On a side note, we could not replicate our voltage settings with CnQ turned off. If we set the same operating voltages in the BIOS, the systems would not POST and if they did, we were lucky if the system booted into Vista which usually lead to an immediate BSOD. On average, we had to set the 9350e to 1.150V to ensure 24/7 stability and the 9550 to 1.175V. In fact, NB voltage had to be increased from 1.10V to 1.15V to pass the PC Vantage and Crysis benchmarks.