Crysis
Crysis is a game that can beat down all cards. We're once again using the high settings with the shaders at very high, and even at a fairly tame resolution of 1680x1050 only 8 cards manage to get past the magical 30fps rate, with nearly half of those are just squeaking by. Crysis is particularly punishing on the HD3000 series cards at these kinds of settings, where only the HD3870 X2 was competitive without resorting toCrossfire. This makes the placement of the HD4000 series all the more important.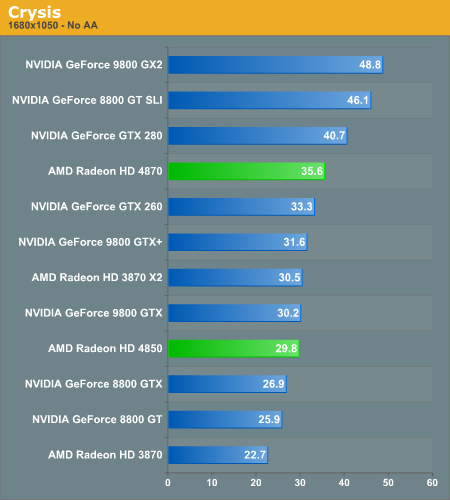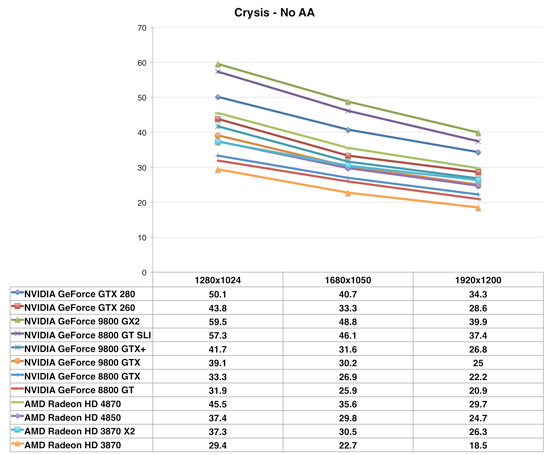 Click to Enlarge
What we see with the 4870 is very promising. Here it leapfrogs the $100 more expensive GTX 260 and delivers 7% more performance at the same time, delivering manageable framerates. It does struggle a bit to separate itself from its cheaper brother the 4850 however, with only a 20% boost in performance for a 50% boost in price. This isn't unexpected of course, it's almost exactly in line with the shader power difference between the two and we've known that this test is shader-bound for some time, but we're not seeing the memory bandwidth make even a slight difference here even at the more unplayable 1900x1200 resolution.
Neither HD4000 card can crack 30fps at higher resolutions however, after 1680x1050 you either need to turn the settings down or start throwing down additional cash for one of NVIDIA's more expensive cards or a Crossfire/SLI solution. In either case, this situation highlights the fact that on a dollar-for-dollar basis, the HD4000 series has negated NVIDIA's commanding lead with Crysis merely two weeks ago.