Power, Thermals, Noise and Die Size
The Radeon HD 4850 is a single slot design, but the card itself gets very hot. At idle the card is mostly silent, but like the GeForce GTX 280 you can hear this thing once the fan spins up. It's definitely not as loud as the GTX 280, but it's not silent under full load.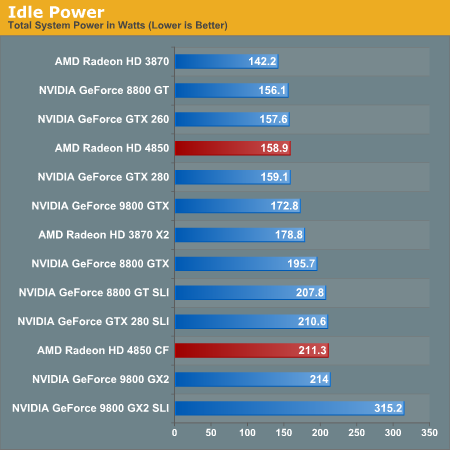 The Radeon HD 4850 draws a bit less power than its closest competitor, the GeForce 9800 GTX.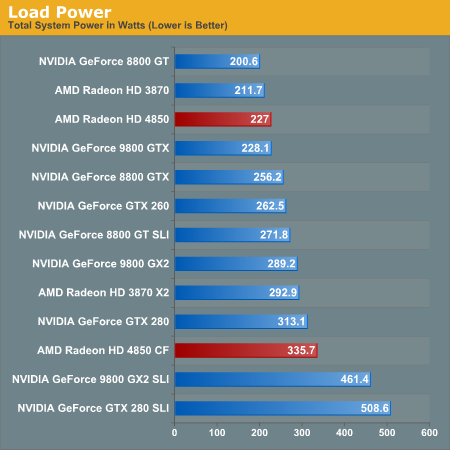 With two 4850s paired up in CrossFire, we once again ran into issues with our power supply. Our 1000W OCZ EliteXStream wasn't always enough for the dual-GPU setup and in Call of Duty 4 our system rebooted in the middle of our test at 2560 x 1600. Thankfully OCZ sent us a PC Power & Cooling Turbo Cool 1200W unit that is certified for use with GeForce GTX 280 SLI, and if it works on that beast, it had better work with a pair of 4850s in CrossFire.
The PCP&C unit is quite loud as we mentioned in our review, but it got the job done, we were able to run all of our benchmarks without a hiccup after swapping power supplies. Despite AMD's small-GPU strategy, power consumption on multi-GPU configurations is still just as much of a problem as it is for NVIDIA.
The Test
Test Setup
CPU
Intel Core 2 Extreme QX9770 @ 3.20GHz

Motherboard
EVGA nForce 790i SLI
Intel DX48BT2
Video Cards
ATI Radeon HD 4850
ATI Radeon HD 3870 X2
ATI Radeon HD 3870
NVIDIA GeForce 9800 GTX
NVIDIA GeForce 9800 GX2
NVIDIA GeForce 8800 GTX
NVIDIA GeForce 8800 GT
NVIDIA GeForce GTX 280
NVIDIA GeForce GTX 260
Video Drivers
Catalyst
Catalyst 8.5
ForceWare 177.34 (for GT200)
ForceWare 175.16 (everything else)
Hard Drive
Seagate 7200.9 120GB 8MB 7200RPM
RAM
4 x 1GB Corsair DDR3-1333 7-7-7-20
Operating System
Windows Vista Ultimate 64-bit SP1

PSU
PC Power & Cooling Turbo Cool 1200W