NVIDIA's Unexpected Response
At 1:25AM EST we received an email from NVIDIA PR, announcing a product we had no idea was coming: the GeForce 9800 GTX+.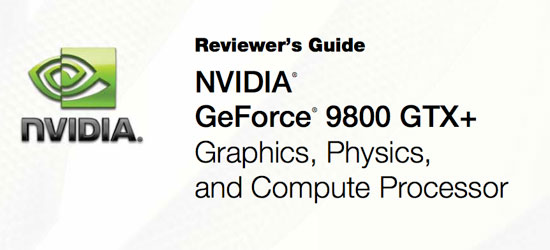 The 9800 GTX+ is a die-shrunk G92 based on TSMC's 55nm process, the same one used by AMD for the Radeon HD 4850. The GTX+ runs at 738MHz/1836MHz (core/SP) up from the stock clock speeds of 675MHz/1690MHz (core/SP). The moderate increase in clock speed (8 - 9%) is one thing, the price point is another: $229.
To make matters worse for AMD, the vanilla GeForce 9800 GTX is going to be priced at $199. Had AMD not introduced the Radeon HD 4850, the 9800 GTX would never have to drop in price, and thus we enjoy the benefits of an AMD that is once again competitive in the marketplace. The price drops on the 9800 GTX will begin to take effect next week (conveniently enough) and the GTX+ will be widely available starting July 16th.
NVIDIA's timing is suspicious, it had a full reviewer's guide ready so clearly it anticipated AMD being very competitive with the Radeon HD 4850, but the email came at an odd time of night.
It's a sneaky move by NVIDIA, had that email never been sent, AMD would have had its day of glory - its own 8800 GT if you will, a $199 part that reset all expectations and raised the bar. Instead, NVIDIA preempted any such move by pre-announcing a 9800 GTX price drop as well as a new, higher end 9800 GTX+ SKU. That's what competition is folks.