GT200 vs. G80: A Clock for Clock Comparison
The GT200 architecture isn't tremendously different from G80 or G92, it just has a lot more processing power. The comparison below highlights the clock for clock difference between GT200 and its true predecessor, NVIDIA's G80. We clocked both GPUs at 575MHz core, 900MHz memory and 1350MHz shader, so this is a look at the hardware's architectural enhancements combined with the pipeline and bus width increases. The graph below shows the performance advantage of GT200 over G80 at the same clock speeds: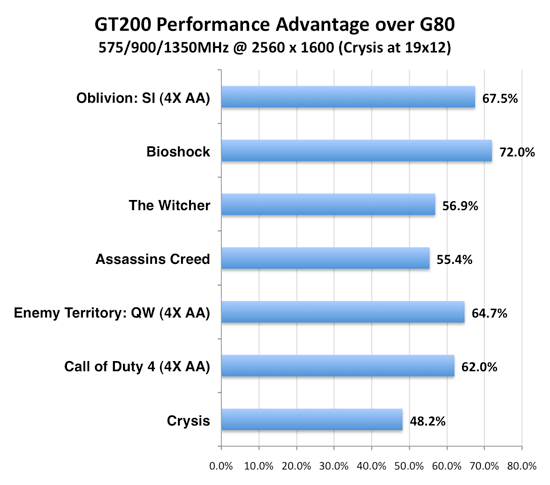 Clock for clock, just due to width increases, we should be at the very worst 25% faster with GT200. This would be the case where we are texture bound. It is unlikely an entire game will be blend rate bound to the point where we see greater than 2x speedups, and while test cases could show this real world apps just aren't blend bound. More realistically, the 87.5% increase in SPs will be the upper limit on performance improvements at the same clock rate. We see our tests behave within these predicted ranges.
Based on this, it appears that Bioshock is quite compute bound and doesn't run into many other bottlenecks when the burden is eased. Crysis on the other hand seems to be limited by more than just compute as it didn't benefit quite as much.
The way compute has been rebalanced does affect the conditions under which performance will benefit from the additional units. More performance will be available in the case where a game didn't just need more compute, but it needed more computer per texture. The converse is true when a game could benefit from more compute, but only if there was more texture hardware to feed them.