Intel Corporation has chosen the opening day of the 28th annual Computex trade show – the international electronics and technology information event held once a year in Taipei, Taiwan – to launch their next-generation 4 Series Express chipset family for mainstream desktop PCs. Consisting of the Intel P45, G45, P43, and G43 Express Chipsets, these new 4-series chipsets bring advancement in capabilities intended to satisfy even the most demanding gamers, power users, and HD video and audio aficionados alike. Among other advancements, Intel 4 Series Express chipsets (with the exception of X48), along with new 45nm dual- and quad-core CPUs scheduled for launch in the second half of 2008, will also introduce support for new low-power states intended to usher in a new era of energy efficient computing.
The 4-series chipset line will be manufactured exclusively using Intel's time-tested 65nm process technology, marking the first time Intel's PCI-E and memory core logic circuits have been scaled below 90nm. Nehalem, Intel's first CPU microarchitecture to incorporate an on-die integrated memory controller (IMC), will take this one step further by shrinking the transistor body length in these circuits down to just 45nm. Given the enormous costs associated with any manufacturing process change and the devastating implications an early failure would have on Intel's public confidence level, its no wonder they are being extreme cautious about this move. Anyone that needs any more convincing on this matter need only see what's happened to AMD as a results of their decision to be more aggressive than Intel in their quest for the production of the world's first "true" quad-core CPU. Indeed, it makes far more sense for Intel to test out just how well their current memory controller design works at 65nm before they go for the coup de grâce with the shrink to 45nm.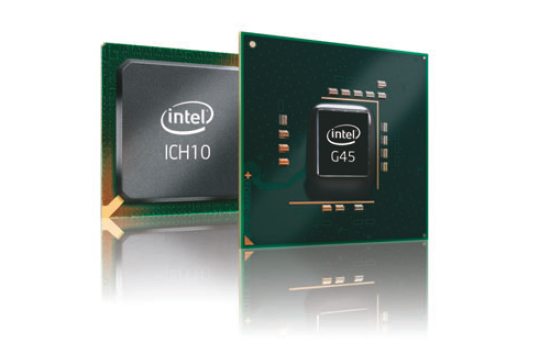 As far as graphics go, G45 is expected to be G35 on steroids; don't expect any big differences between this generation of chipsets and last.
With the Intel PR bunnies officially hard at work in Taiwan gushing forth the merits of this new line of chipsets, we would expect to see products from the usual manufactures appearing on retail shelves any day now. We brought you an early, first-hand look at some of the more measurable P45 performance figures last month when we spotlighted the ASUS P5Q3 Deluxe, but since then we have not had any other motherboard vendors come forward with product for review. If there was any truth to the rumor that Intel re-spun the P45 silicon one last time (the fabled A3 revision) in order to address a particularly nasty PCI-E graphics bug, then that would certainly explain the apparent lack of boards. It takes time to get freshly-made chipsets to Tier-1 partners and it's easy to miss product launches with the availability of actual product when trying to deal with last minute delays.
Each of the new Intel 4 Series chipsets supports a maximum validated front side bus (FSB) speed of 1333MT/s (333MHz) and dual-channel DDR3 memory technology up to 1066MHz. We've seen this before, and in fact this main-bus-to-memory-bus configuration reminds us of the Intel Mobile PM/GM965 chipset and its support for 800MHz FSB processors and a maximum memory speed of just DDR2-667. Given this, it's not too hard to imagine these 4-series chipsets were created with the intention of being the first real, viable replacements for notebook OEMs looking to use something other than aging PM/GM965 chipsets with their now-outdated GMA X3100 integrated GPUs. The mere mention of chipset low-power states should be enough to justify this conclusion. We didn't say it before but we'll say it now: the new 45nm CPUs expected to appear later this year will almost certainly be of the low-power mobile type.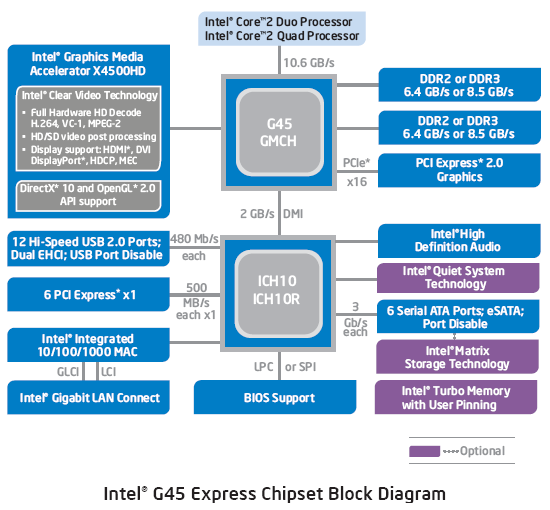 If you look at it in the right light the G45-based platform block diagram looks like any other.
When you put it all together – the same-day public introduction of the 45nm Intel Atom CPU (with integrated GMA 500 graphics), the 4 Series Express chipsets' power-saving manufacturing process change to 65nm (down from 90nm), the rumored late-2008 availability of low-power dynamically-adjustable 45nm Core2 (mobile) CPUs, and Intel's almost frantic need to address NVIDIA's Tegra GPUs for ultra-mobile devices as well as their new 780a-based platform with Hybrid-SLI technology – it's not hard to see why these chipsets needed to launch right now. Intel desperately needs an extremely flexible, HD-capable GPU if they plan on staying competitive with NVIDIA, and they hope the GMA X4500HD will be just that. Whether or not this ends up the case remains to be seen, but as the lines separating traditional PC technologies and consumer electronics devices continue to blur, Intel and NVIDIA are all but guaranteed to become increasingly competitive on this front.
Of course, if we are right, the corollary to all of this is rather disappointing news for overclockers and performance enthusiasts. In that case, the 4 Series Express chipset launch cannot be seen as anything other than a move by Intel to gain a much larger share of the embedded-GPU device market. Low-cost, low-power, and high-performance are rarely seen in the same sentence together and knowing this we really can't fault Intel for not giving us a chipset that smashes the already exceptional X48 performance figures out of the park. Except for a few highly-specialized rouge benchmarks, don't expect a P45-based system to outpace any X48 board worth its salt, at least not by any significant margin. For those that choose a P45 board over a comparably equipped X48 board, the most you can really hope for is a small costs savings, probably on the order of $40 to $60.
Let's finish up our look at these new 4 Series chipsets by examining a few of the features and improvements closer. Those that are looking to build their next High Definition Home Theater PC (HTPC) might just see something worth investigating.