Our Digital Sensor Part 1 and Digital Sensor: Part 2 articles got us thinking again about the state of the Foveon sensor. The Foveon hadn't been in our hands since our early fascination with the first Foveon camera, the Sigma SD9. As there are some very serious devotees of the Sigma Foveon and even an active Sigma DSLR discussion forum at DPReview, our curiosity was burning on whether the Foveon had improved any since that error-plagued early attempt by Sigma. After many launch delays, the SD14 has now been shipping for almost a year and it has gone through several rounds of firmware and software updates. Time has likely made the SD14 as stable as it will ever be.
The Sigma SD14 is the current Foveon sensor Digital SLR, but since it has been on the market for almost a year it will not be dissected as a new model. The emphasis instead will be Foveon performance and SD14 workflow questions. This is a closer look at how the SD14 operates - the speed, typical workflow, and image quality across the available ISO range. The SD14 is the first Foveon DSLR to actually have the option of saving in JPEG mode. However, JPEG saves are very slow and still much poorer quality than RAW on the SD14. As a result most SD14 users work in RAW mode. Since that is how most users work it is how we will evaluate the SD14.
Here you see the SD14 decked out with the optional Power Grip PG-21. Sigma also offers an extremely broad line of prime and zoom lenses for the SD14. Sigma has produced lenses for their digital SLR cameras for more than 15 years, and even the early Sigma-mount lenses attach and work well. The current lens line even includes new models with Optical Image Stabilization that is said to provide up to four stops of improved performance.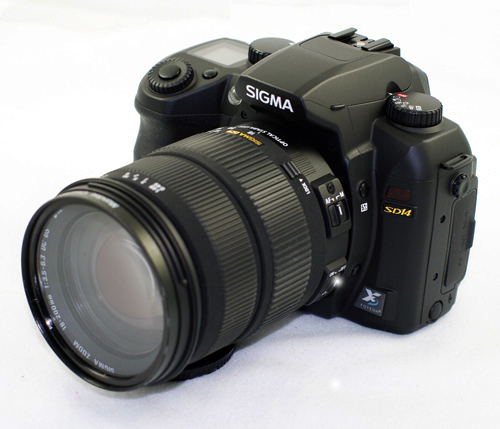 Foveon fans will not likely be swayed by much that we report, but our out-of-the box experience with the SD14 was anything but an auspicious beginning. We were somewhat prepared for the SD14 to be slow in operation, but we were not really prepared for almost nine seconds from camera turn on to being able to take an image of any kind. We were also not prepared for the initial lockup where the interminable blinking red light - that indicates the camera is busy - would never turn off.
After formatting both 8GB CF cards a second time with an external USB2 card reader, the camera finally came to life after eight blinks of the CF card busy light and a couple of quick flashes while it set up the CF file system. To err on the caution side we updated the firmware, which strangely required two update sessions in the correct order to end up with Firmware version 1.07. The firmware update didn't stop the once-in-a-while lockups, but a "drive-dial" off and on usually fixed locks and we didn't have to go to the extreme step of removing the battery to recycle the hangs but once. Clearly, Sigma still needs some refinement in their camera firmware as users of a Canon or Nikon would never settle for this buggy operation.
If it were strictly about the camera itself we would have given up at this point, but we trudged on because every photographer knows it is about the image - and the second generation Foveon is a totally different beast from other cameras.
UPDATE: After the review was published we received several emails from current SD14 owners who reported 1 second start up times and few if any lock-ups with 1.07 firmware. We looked further into the slow startup and lockup problem. We had used three different 8GB CF cards in the course of testing for this review. All were 280X cards based on Samsung memory chips, and all 3 cards have worked fine with every other camera we have tested at AT.
After receiving the reports from SD14 users of startups of 1 second or so, we tried two new CF cards of different brands - a 16GB and a 4GB. BOTH the new cards initialized in about a second and we have not experienced a lock-up yet in shooting with either card. Image write times remained very slow with every card we tested. THE STARTUP DELAY AND LOCK-UPS APPEAR TO BE THE FAULT OF CF CARD COMPATIBILITY ISSUES AND NOT THE SD14 CAMERA. The rest of this review has been revised to reflect these new findings.