Intel's Atom Processor: Benchmarked
ASUS did not want us publishing benchmarks using the Eee Box until it was final, so we had to turn to a competing platform to actually measure the performance of Intel's Atom. The setup we have here is similar to the Eee Box with three changes: 1) we're running Vista, 2) we're using a desktop hard drive and 3) we're using 2GB of memory. The processor is clocked at the same 1.6GHz as the Atom in the Eee Box and although the motherboard is different, the chipset/graphics are the same.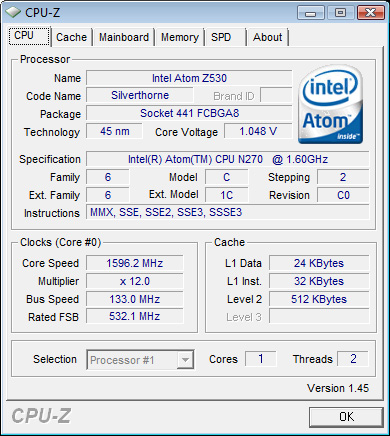 Intel has frequently promised performance close to that of a Pentium M processor with the Atom, and now we're finally able to investigate that claim. We compared the Atom to three CPUs:
Intel Celeron 420 (1.6GHz) - The Celeron 420 based on a 65nm Conroe-L core, which is a single-core member of the Core 2 family with only a 512KB L2 cache. Clock for clock the Conroe-L should be much faster than Atom, but this comparison is nice to give a reference point for Atom's performance today.
Intel Pentium M "Dothan" - This has always been Intel's comparison point for Atom. Based on its architecture, Atom should have lower performance than the Pentium M at the same clock speed but we tested at two clock speeds to hopefully find a reasonable range of performance where Atom behaves similarly. Dothan, if you don't remember, was the second Centrino CPU built on a 90nm process and equipped with a very large 2MB L2 cache.
CPU:

Intel Atom Z530 (1.6GHz)
Intel Celeron 420 (1.6GHz)
Intel Pentium M 725 "Dothan" (1.6GHz)
Intel Pentium M "Dothan" (800MHz)


Motherboard:
ASUS P5LD2EB-DHS (Atom)
Intel DG35EC (Celeron 420)
ASUS P4P800 (Dothan)
Chipset:
Intel 945G (Atom)
Intel G35 (Celeron)
Intel 865 (Dothan)
Chipset Drivers:

Intel 8.1.1.1010


Hard Disk:
Western Digital Green 1TB
Memory:
DDR2-667 4-4-4-12 (1GB x 2)
DDR-400 (1GB x 2)
Video Card:
IGP/GeForce 6600 (for Dothan platform)
Video Drivers:
Intel 15.7.3.1409
NVIDIA ForceWare 169.25
Desktop Resolution:
1920 x 1200 (Vista Basic Theme)
OS:
Windows Vista Ultimate 32-bit SP1
We kept all variables the same as much as possible, obviously the Celeron 420, Pentium M and Atom all had to use different motherboards but we kept everything else from memory size to hard disk the same in order to make this as much of a CPU comparison as possible.