Just a Taste of Early Overclocking Results
Because our ASUS P5Q3 Deluxe motherboard was built using early P45 silicon (revision A2), we believe it to be entirely appropriate to reserve final judgment of the board's overclockability until such time as retail products are ready for release. With that being said, we also want to bring you an early look at our first attempts at overclocking the P5Q3 Deluxe.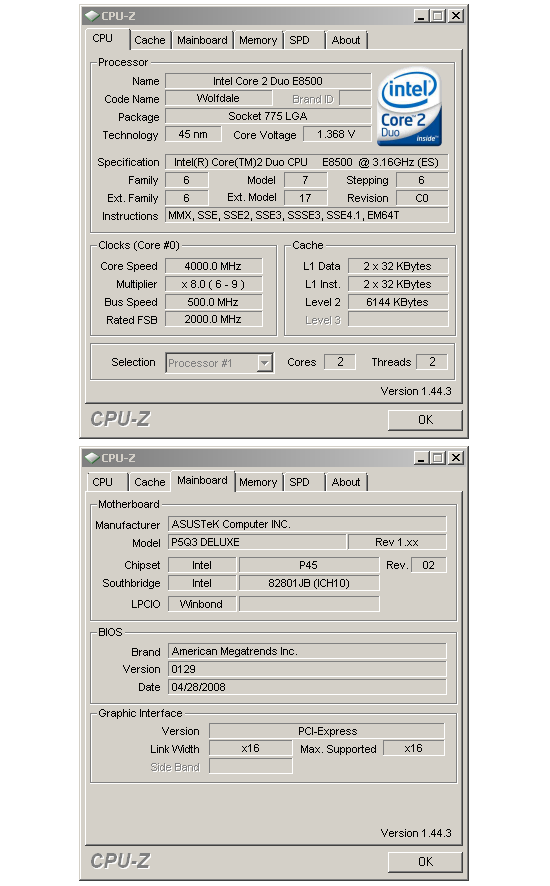 Achieving 4.0GHz with a dual-core Core2 E8500 was breeze thanks to our ASUS P5Q3 Deluxe.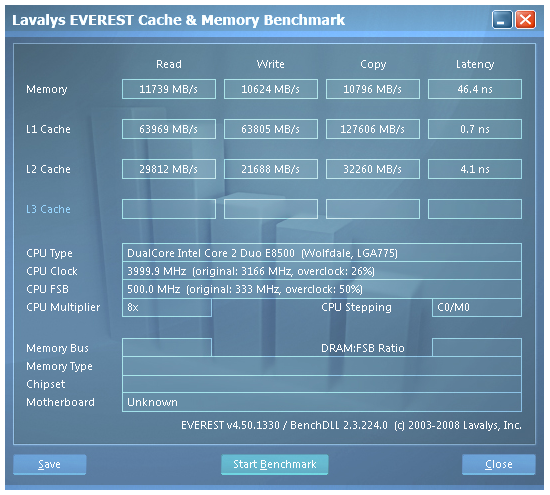 Lavalys EVEREST had trouble identifying our motherboard, but the results are 100% accurate.
Using an E8500 we were able to push to 500FSB, albeit with more vMCH than we expected - nearly 1.5V was needed for sustained stability. This is precisely one of the reasons that we would like to withhold our final opinions on the overclocking merits of this board. We know there is a new P45 silicon spin in the works (revision A3) and thermal and power characteristics generally improve as each new product's process improves. In the meantime, our results at least offer us hope that P45 has the potential to outshine even P35, which has proven to be an amazingly overclockable chipset.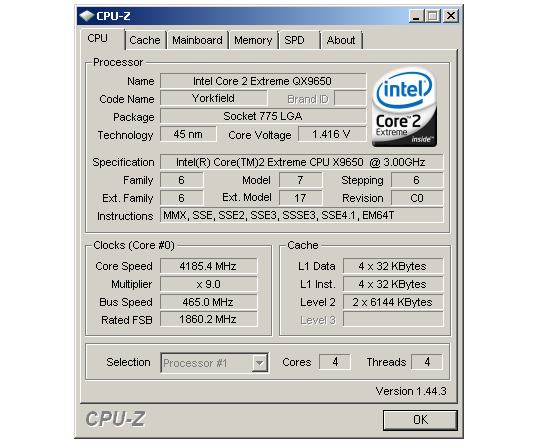 Our maximum FSB overclock with a tRD (Static Read Delay) of 7 using our QX9650 was great considering our relative inexperience working with P45.
We decide to see how far we could push the board at a tRD of 7 (about 465FSB). Going any higher required a switch to a tRD of 8, leaving valuable memory performance on the table whilst only giving us a couple more megahertz before our quad-core CPU ran out of steam. We are more than happy with this result though as 465FSB is still the sweet spot for a lot of boards when using anything with more than two cores.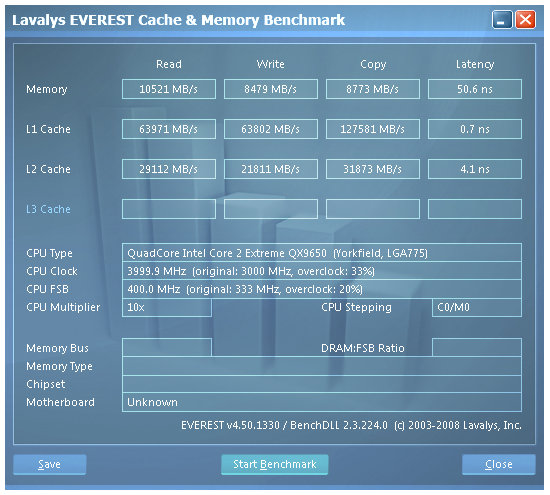 Latencies around 50ns and read scores well above 10GB/s are a real treat when playing with a quad-core CPU.
Our preferred operating point, 10x400, is looking good with P45. Given this, it might be hard to justify the extra expense of an X48 board if all we plan on doing is light gaming with the best CPU we can afford. Later, if we decide we need more 3D graphics power, we can always drop in another GPU as long as we're smart about it and start with a CrossFire-ready graphics card.